Veterans' "Honor Court" sees first pair of program graduates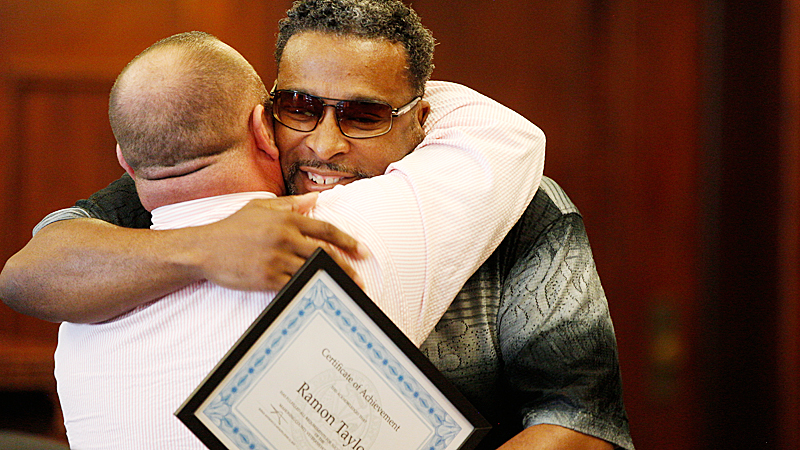 ---
By GRAIG GRAZIOSI
ggraziosi@vindy.com
YOUNGSTOWN
A pair of veterans were celebrated Tuesday at the Mahoning County Common Pleas Court for graduating from the "Honor Court" program.
David McGouldrick and Ramon Taylor stood before Judge Anthony D'Apolito and had their criminal cases dismissed following their successful completion of the program.
The Honor Court is a special docket in Mahoning County for veterans with low-level, non-violent offenses. Currently there are 10 participants.
"I'm honored today not to sit in a place of judgment, but in a position to offer help," Judge D'Apolito said.
McGouldrick, a four-year Army veteran who was deployed to Iraq, thanked the court and the program's treatment team for helping him.
"It took me a while to find it within myself to face my own demons," McGouldrick said. "It brings me joy and refreshed the light inside me that the treatment team never gave up on me."
Judge D'Apolitio praised McGouldrick for completing the program.
"David will serve to remind me that even if you think there's no hope and that someone is at the end of their rope, to not give up on them," he said. "He overcame his obstacles, and his achievement today is greater because of those obstacles."
Taylor, a four-year Army veteran of Operation Desert Storm, was praised as a "poster child" for the program by Judge D'Apolito and is currently in the process of earning his Chemical Dependency Counselor Assistant certification with Flying High Inc. so he can bring the same experience and understanding that he says helped him through the Honor Court to others in similar circumstances.
"The empathy they show in the Honor Court was important. Judge D'Apolito isn't a veteran but he has a heart for us," Taylor said. "We're beginning to see now more programs aimed at vets, which is good, as I don't think people realize just how many veterans are out there in need of help."
Participants in the Honor Court can complete the program in as little as a year or take up to two years, and can enter the program either before or after their dispositions. Veterans who complete their program pre-disposition can have their cases dismissed.
Though the day was focused on the veterans who completed the program, Judge D'Apolito also gave special recognition to the Honor Court coordinator Derek Young, a Marine veteran who voluntarily oversees the program.
"It's very fulfilling to see these two individuals work so hard for their success and then turn around and use that success to try to help influence others in the same situation," Young said.
More like this from vindy.com