QBs are key players in Arvin Classic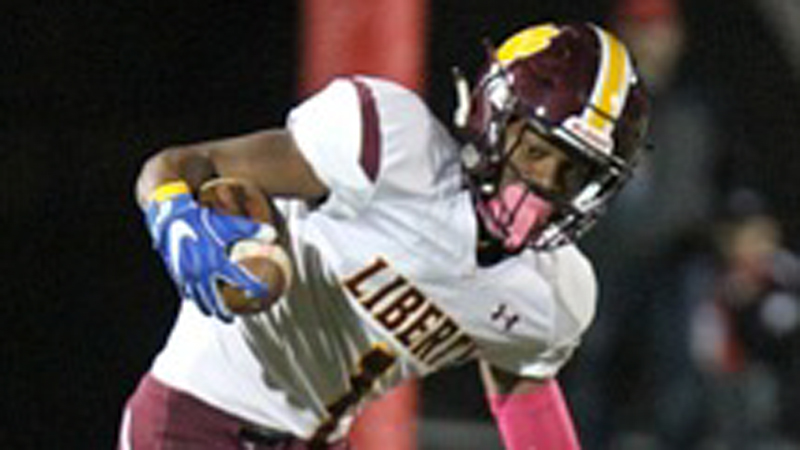 ---
By DAN HINER
dhiner@vindy.com
Quarterback play will help determine the winner of the 34th Mahoning County Coaches Association Jack Arvin Football Classic.
Trumbull County will feature two of the most talented quarterbacks in the area. Lakeview's Zach Rogers and Liberty's Dra Rushton will both line up behind center for the all-star game.
Rogers and Rushton have two completely different styles.
Rogers finished the season with 1,755 passing yards along with 16 passing touchdowns. Rushton, on the other hand, ran for 1,339 yards and 23 touchdowns.
"It works because [Trumbull County coach Randy Clark] is having me run all the stuff that Dra's running, Dra's running all the stuff I'm running," Rogers said. "Who's in will dictate the play."
Clark, the head coach at Brookfield, said Rogers will be the starter and will take a majority of the snaps.
Clark plans to use Rushton at quarterback. But the Trumbull County player of the year also will play receiver.
"I had intensions of playing Dra at slot also and also some running back," Clark said. "I think [Youngstown State University] wants him at running back or slot, one of the two."
For Mahoning-Columbiana, Poland's Jonah Spencer and Boardman's Domonhic Jennings will play quarterback. Both will be playing a slightly new position.
Spencer and Jennings were emergency quarterbacks for their teams but played running back and defensive back last season.
The starting quarterback hasn't been decided, but coach Brian Marrow will have a better idea after the team's practice on Wednesday.
"We had a lot of guys drop out because of injuries and other obligations," said Marrow, East's varsity coach. "We're kinda short on the roster."
Rushton will need to catch a few more passes when he lines up at receiver. Trumbull will be without their top target. Girard's Michael Belcik was supposed to be Rogers' primary target, but sprained his ankle during practice and will not play.
Last season, Belcik caught 56 passes for 1,124 yards and 13 touchdowns.
Marrow said Austintown Fitch's Joey Zielinski, East's Ilijah Donley and Valley Christian's JaQwon Dow have stood out over the two weeks of practice.
Trumbull's offensive and defensive lines are bigger than Mahoning-Columbiana. Clark is confident his lineman will assert themselves on both sides of the ball.
But Marrow isn't to concerned with the difference in size.
"We got speed and tough guys, I'll take that any day," Marrow said. "We got some tough guys, Mahoning County. They may outweigh us but we're really tough."
Both coaches want their teams to be organized heading into the game. Both sides have had players miss practice due to graduation parties and other commitments.
"The guys, they're eager and fired up," Marrow said. "Like I told them today, 'Some of you guys won your last game, some of you guys lost your last game. You got one more opportunity to win in your high school career. You never forget your high school stuff.'"
More like this from vindy.com