Wheelchair ramp completed at Girard American Legion hall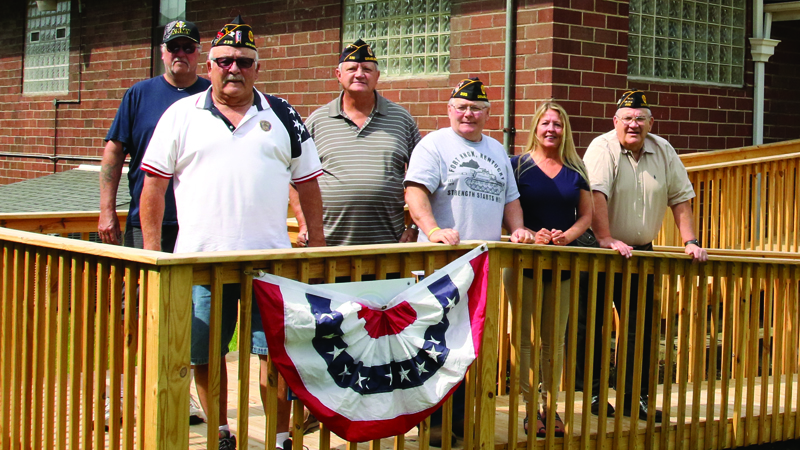 ---
GIRARD
American Legion Post 235 is a gathering place for veterans and their families to honor those who served, enjoy one another's company and make plans to serve their community.
Legion officers wanted to make sure disabled veterans had easy access into the building at 11 High St., so they worked to build a wheelchair ramp.
"The ramp turned out beautiful and is being used frequently by people renting the upstairs hall," adjutant Chuck Herring said.
Herring spearheaded the project, which meets state specifications.
The ramp was built in April, taking just four days to complete.
Mayor James Melfi will cut the ribbon at a 4 p.m. ceremony June 23.
The ramp was built by Home Solutions Handyman of Warren and general contractor Todd Hall. It cost $5,415, including the construction and the $430 gravel and weed barrier underneath.
The legion's Auxiliary Club donated $1,000 and the Sons of the American Legion donated about $500 to the cause. The post also ran fundraisers, including a poker tournament to cover costs.
"We're proud of this project," said Bridgette Hall, president of the Auxiliary Club.
Post Financial Officer Don Leipply said the post gives money they raise back to the community. Money that wasn't used on the ramp was donated to local causes, including the Trumbull County Educational Service Center's Civic Day, Girard Firefighters Local 1220 and the Girard/Liberty Special Olympics. They donate annually to Gifts for Yanks, which benefits disabled and sick veterans.
Fundraising is crucial for the group, and always has been. The post building itself was constructed through funds raised from penny bingo in 1923, Leipply said.
Leipply said they are challenged with getting more young people involved, especially those who can take over the officer positions someday. They also need energetic young people to help with fundraising, he added.
"We need to bring in new members to indoctrinate them into the legion, and show them what it's all about," he said.
An American Legion member must have a military background during an armed conflict or be a descendant of someone who does. There is also a social membership for those who want to hang out at the club's canteen but don't come from a military family.
The canteen's walls are adorned with military memorabilia and pictures of all the past post commanders. The POW/MIA table is under a spotlight. There is a bar and a pool table, and a kitchen.
Legion officers tease each other about their military branches in a friendly rivalry, but "we're all together. Whether you were with the Army, Navy, Coast Guard, or Air Force, we are here for each other," Herring said. Commander Kim Burin added they like to joke, but are a big family.
Anyone interested in becoming a member, joining their weekend poker tournaments and bingo games or renting their hall can contact the legion at 330-530-7431 and ask for Herring.
More like this from vindy.com