Trumbull Democratic leader hopeful party can restore order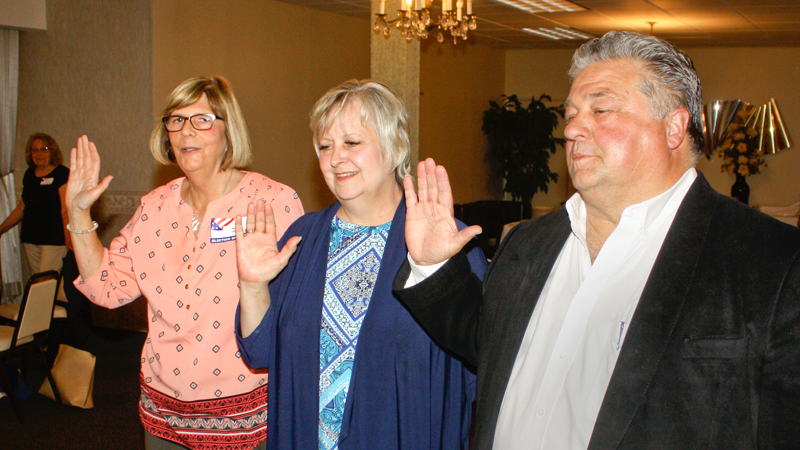 ---
By Ed Runyan
WARREN
A Girard councilwoman whose comments May 24 commanded the attention of the Trumbull County Democratic Party Central Committee when it gathered to fill the vacancy for county coroner says she believes the party will restore order.
Fran Wilson, who also was selected party second vice chairman at last week's reorganization meeting, was among those with concerns about the voting method used, and she spoke up about it before the vote May 24.
Wilson started her remarks by reminding the approximately 100 committee members the party adopted bylaws in October 2014 calling for a "caucus" style of voting to appoint replacement Democratic public officials and to make endorsements in contested races.
Caucus voting was a way to satisfy the Ohio Democratic Party's demand that Trumbull and other county parties vote in public instead of in secret because the voters – central committee members – have a responsibility to the Democrats who elected them to be accountable for their votes.
Caucus voting means a vice chairman such as Wilson would gather with the 15 to 20 central committee members in Girard, McDonald and Liberty and vote on the endorsement or appointment, and Wilson would report the totals to the rest of the committee. Each other group across the county would do likewise.
That process is open because others – including nonparty officials – can see and hear the votes as they are cast.
But the last few times the party has met to endorse or appoint, the party did not use caucus voting. It voted using paper ballots with the name of the voter on it.
The concern of many central committee members, Wilson explained later to The Vindicator, is some voters are uncomfortable with others knowing how they voted because they don't want to harm their relationships with candidates who they voted against.
Wilson says she supports Dan Polivka, who was unopposed when he was re-elected to another four-year term as party chairman, and thinks first vice chairwoman Kathy DiCristofaro and secretary Karen Zehr have the skills to help Polivka overcome numerous recent controversies. DiCristofaro was re-elected to a second term and Zehr was elected for the first time.
On May 24, Wilson had some criticism of Polivka's decision to use paper ballots with voters' names on them when the central committee voted to endorse Lisha Pompili Baumiller for county commissioner over longtime incumbent Frank Fuda in February.
"We need to change the bylaw that says we're going to do it however Danny [Polivka] wants to do it," she said. "If the chair [man] wants to change things, we need to be a part of the bylaws that do that. We either have bylaws or we don't.
"That's the problem I have with this whole situation," she continued. "Every time we do it, it's a different way."
The comments brought Atty. Jeff Goodman, party legal adviser into the discussion, and he confirmed paper ballots would be used and that Ohio Democratic Party officials had allowed the Trumbull party to use that or a couple of other voting methods.
He said despite the local party approving new bylaws in 2014, the state party required changes to them afterward, and the paper ballots were one result.
Wilson then said she spoke up because "I get calls from everyone [in the party] saying, 'Why are we doing this? Why are we doing that?'"
Wilson said a lot of people didn't attend the meeting to vote for Pompili-Baumiller and Fuda "because they didn't want their name on their vote." She said later a lot of people were upset about the circumstances surrounding that vote.
She said the next time there's a vote "there will be very few people here." She received applause when she finished speaking.
Next, several people asked whether the paper ballots they were going to cast that night would be destroyed, and Goodman said he knew no reason they could not be destroyed because a tally sheet without the voters' names on them would be retained, and was sufficient for record-keeping purposes.
A central committee member asked when the ballots would be destroyed.
"I don't destroy them," Goodman replied.
"What time frame?" a woman asked.
"I don't know what time frame," Goodman said. "I would guess immediately, but I don't know. I don't know when that fire is lit."
After the votes had been cast, the committee voted to destroy the paper ballots immediately. Polivka acknowledged the vote, but nobody took the steps to do it, despite the efforts of Shelley Mazanetz, a recently retired investigator with the coroner's office, who stood by the ballot box attempting to have county elections board officials destroy them.
When Polivka was asked about it, he said he didn't have a match.
Later, he approached elections workers, including Alan Shaker, the Democratic deputy elections board director, with his cellphone and conveyed to Shaker that Ohio Democratic Party Secretary Bill Demora advised Polivka it would be illegal for the ballots to be destroyed. Polivka took them home that night.
Goodman said last week party officials later agreed there was no legal basis for keeping the ballots.
Wilson said she is confident Polivka will have a committee revise the bylaws again so they match the voting procedures used.
She said she believes DiCristofaro and Zehr will make sure central committee officials are informed of meeting dates, deadlines and other matters in a more timely manner than in the past.
Polivka frequently gives out information "at the last minute," she said, adding she hopes more central committee members will become familiar with the bylaws so they understand how things are supposed to work.
She said she believes DiCristofaro and Zehr will be effective in "making the party more transparent."
More like this from vindy.com