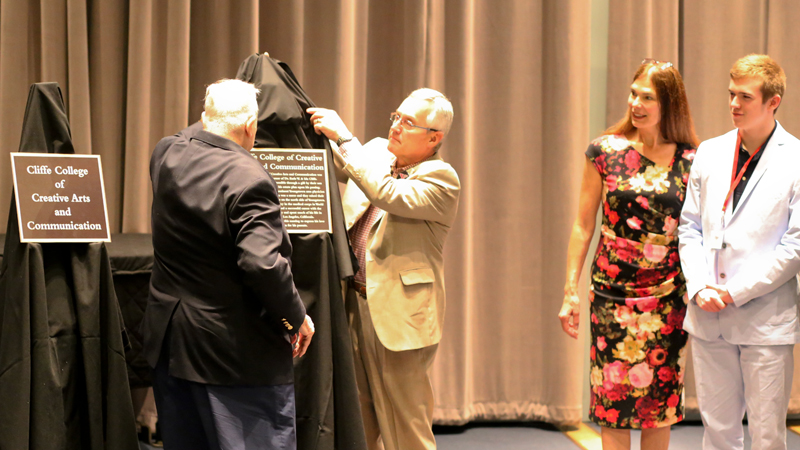 ---
By Sean Barron
YOUNGSTOWN
An emotional Charles Cliffe stood for a few minutes silently reading a plaque on which was inscribed some of his late brother's achievements.
"He was very individualistic," the Richmond, Ind., man recalled about his brother, Earle Wayne Cliffe Jr., who left a $1.3 million gift to Youngstown State University before he died last year at age 94.
The plaque was one of two unveiled during a dedication ceremony Sunday morning in YSU's Ford Theater in which the College of Creative Arts and Communication in Bliss Hall was renamed the Cliffe College of Creative Arts and Communication. Several Cliffe family descendants were among the few dozen attendees.
"He thought outside the box," added Dr. Barbara A. Cliffe-Miller, Earle Cliffe Jr.'s niece. "He was forward-thinking."
The renaming was in honor of Cliffe's parents, Dr. Earle W. Cliffe Sr. and Ida Cliffe, as a way for their son to express his love and appreciation for them, noted Ron Cole, university spokesman.
The elder Cliffe served in the medical corps during World War I, then was a prominent local physician in the 1920s and '30s at St. Elizabeth Youngstown Hospital who was responsible for the largest number of home-maternity deliveries. Ida Cliffe was a nurse.
After graduating from The Rayen School in 1941 and serving in the Army during World War II, the younger Cliffe settled in the mid-1950s in Southern California, where he served as personnel director for Hughes Aircraft before becoming a real-estate agent in the Los Angeles area. Nevertheless, Cliffe always held onto his connections with and love for the Mahoning Valley, YSU President Jim Tressel said.
"There are certain landmarks you make while evolving as an institution," said Tressel, who added in a statement: "Mr. Cliffe never forgot his Youngstown roots; now his name will be forever remembered through the Cliffe College of Creative Arts and Communication. We thank Mr. Cliffe and his family for their support, and we're honored to have the Cliffe name memorialized on our campus."
The gift also is part of the university's $100 million "We See Tomorrow" capital campaign, noted Paul McFadden, president of the YSU Foundation, which is spearheading the effort.
More than half of the money has been raised since the campaign was launched last October, McFadden said. The $100 million is earmarked for a student success center, the YSU Annual Fund, student scholarships and work opportunities, the Paula and Anthony Rich Center for Autism, the Mahoning Valley Innovation and Commercialization Center, endowed chairs and professorships and other endeavors.
"The Cliffe family legacy will carry on in Youngstown for generations," said McFadden, who fondly recalled having gotten together on many occasions with Earle Wayne Cliffe Jr. while in California. "Wayne Cliffe always said, 'Youngstown, Ohio, is my hometown.'"
The Cliffe College of Creative Arts and Communication offers seven degrees in nearly 40 fields via the Dana School of Music as well as the departments of Art, Communication and Theater/Dance, noted Dr. Phyllis M. Paul, dean.
In addition, the college puts on more than 400 musical concerts, art exhibits, theatrical productions and dance ensembles yearly, said Paul, adding that it's also responsible for the Summer Festival of the Arts every July.
In addition, the college is home to the McDonough Museum of Art.
More like this from vindy.com