Sources of pride in Star Supply's 50-year history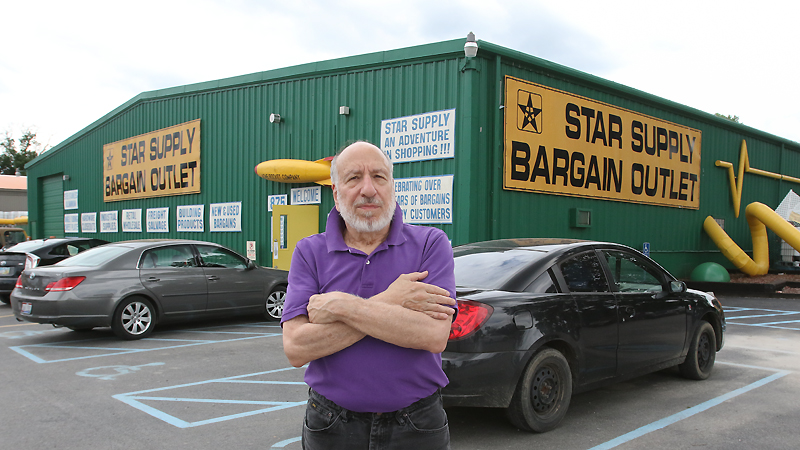 ---
IS IT A HARDWARE store? a HOME CENTER? NO ONE KNOWS
YOUNGSTOWN
In Star Supply Bargain Outlet owner Richard Rosenthal's office, a collection of photographs of Mahoning Avenue in the early 1970s hangs on a wall above his desk.
The images show what the corridor looked like when Rosenthal moved his business to its current location at 875 Mahoning Ave.
At that time, the buildings were unused and unloved, fading into disrepair.
One of Rosenthal's greatest sources of pride in Star Supply's 50-year history is transforming those properties into useful spaces.
Today, they are enlivened by Star Supply's signature bright-yellow color, the eclectic mix of goods the store sells and projects such as Rosenthal's display of eye-catching art.
This year marks 50 years since Rosenthal opened his business, originally at another location on Mahoning Avenue. He came to Youngstown in 1968, married, with three young children, to make a living for his family.
Rosenthal had worked at his father's business, but a dispute caused him to leave the family business (he and his father later made up).
"I was young, inexperienced and poor," Rosenthal said. "I had been working with my father in New Castle [Pa.] in a business that sold industrial equipment."
Rosenthal, 26 at the time, pursued a similar model when he struck out on his own.
At first, Star Supply mostly sold industrial goods. That changed in 1977, as the city's steel industry was collapsing. Rosenthal shifted gears and began selling household goods, closeout merchandise and overstock items, starting the model that continues today of offering such a varied mix of items that Rosenthal still struggles to define what exactly Star Supply is.
"It's hard to put a name on what it is," he said. "Is it a hardware store? Is it a home center? Is it a big box store?"
"I'm still looking for a title or a definition or description of what Star is, because it is unusual," he said. "It is eclectic. But it has goods that people need for upgrading, remodeling, repairing."
Walking through the store, customers will see goods ranging from tarps to pillows to countertops. Rosenthal sees it as a place that not only allows him to express his creative side, but brings out creativity in customers, as well.
The store's uniqueness has allowed it to develop a niche customer base, so much so that Rosenthal said even the growth of online shopping hasn't put a dent in his business.
"We're a hands-on operation, known locally, and people appreciate us," he said.
Most customers live within 50 to 100 miles of the store, he said, and he's never wanted to change that. Even when opportunities for expansion arose, Rosenthal declined. He's been more than satisfied with what he describes as a small, manageable business.
"My goal was to make a living, not an empire," he said.
Star Supply built and moved to its current location in 1974 after buying the property from Isaly's, a dairy company. The property spans 60,000 square feet, which includes the store, a warehouse and buildings that are leased out. Just as the store's goods are always changing, Rosenthal is constantly changing the space, too, most recently with plans to install a sculpture garden.
Over the past 50 years, Star Supply has grown from employing one person part-time to 16 people full-time.
Providing solid job opportunities is what Rosenthal has found most rewarding about the business.
"It's a nice place to work, and I feel good ... that Star can provide that," he said. "A lot of the business world seems to treat their staff poorly. They're unfair and unreasonable. Star has always cared about the people we work with."
Reflecting on the store's 50-year anniversary and looking ahead to its future, Rosenthal doesn't have a plan. All he knows is that he's not going anywhere.
"I don't think of it that way," he said. "I just think I survived, and I'm here, and I don't think about retiring, either. I enjoy what I'm doing, and I enjoy the people here."
"It's a challenge, and it's exciting," he said. "It's still exciting."
More like this from vindy.com