Super cruisers take over Salem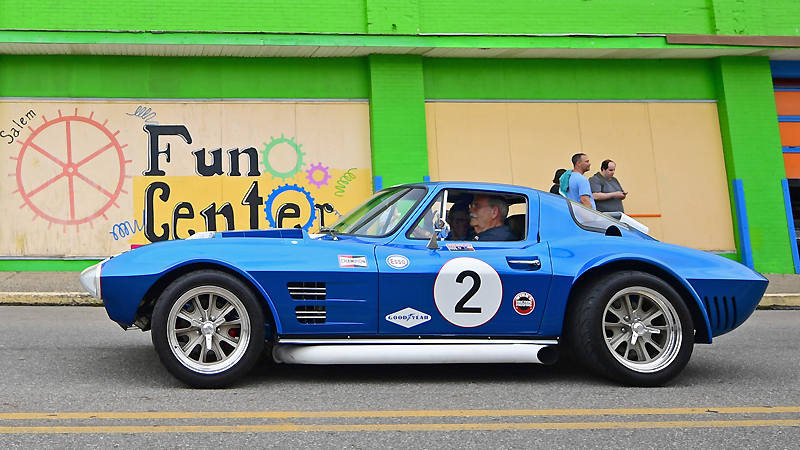 ---
By SEAN BARRON
news@vindy.com
SALEM
In its former life, Bob Grill's 2001 Ford F-250 was practically indistinguishable from thousands of other nearly identical pickup trucks, but you could say today that it stands out by standing tall.
"It weighs 14,000 pounds, and each tire is about 1,000 pounds," the Penn Hills, Pa., former firefighter said Saturday about the everyday pickup truck he converted to what he calls "a monster truck ride truck."
You would almost have to be blindfolded not to notice the 13-foot-high and nearly 13-foot-wide behemoth that also features a 500-horsepower engine, 66-inch tall Goodyear tires and eight rear seats for riders that carries the nickname Daddy's Nightmare.
The super-sized truck is just one of many attractions that make up the 14th annual Salem Super Cruise, which began Thursday and continues from 11 a.m. to 3 p.m. today throughout downtown.
Major sponsors and supporters include Columbiana County's five Flynn Auto Group dealers, noted Sam Sicilia, event organizer and a member of the Mahoning Valley Corvette Club, which is a partner in the cruise.
Monetary and nonperishable food donations will benefit Second Harvest Food Bank of the Mahoning Valley, Sicilia added.
Grill said he worked with crew members who built the Pacific, Mo.-based Bigfoot, which debuted in the late 1970s and is said to be the original monster truck.
Despite its impressive size, Grill's vehicle is used largely to take up to eight people at a time for short, slow rides mainly on flat surfaces. The rear tailgate lowers to a set of steps for riders to climb, he continued.
The truck's rather menacing nickname may have been in honor of Grill's late father, Bob Grill Sr., but the elder Grill always encouraged his son to follow his passions and dreams, Grill said.
"It's been a dream of mine to do this," he added.
A much smaller 1963 Chevrolet Impala with many original features – and loaded with history – is something owner Ralph Tringhese has no reluctance about discussing.
"This car has a ton of race history," said Tringhese of #1 Performance Center of Columbiana.
The two-door coupe, with lightweight aluminum brackets, bumpers, hood and fenders, a 430-horsepower "mystery" engine and vented metallic brakes, is worth between $700,000 and $900,000, because of its long racing history and because only 55 such vehicles were manufactured, he continued.
The factory stock race car also sports many original decals, along with a manual depicting many races it was in dating to the mid-1960s. Dave Strickler, a well-known drag racer during that decade, was among those who drove the Impala, Tringhese noted.
Also always ready for the track is Jeff Wilson's bright-red 1963 Corvette Split Window, which has undergone "numerous body modifications" to convert it to a race car, the Boardman man said.
The vehicle, which can travel in excess of 200 mph, relies heavily on aerodynamics that include three 51⁄2-inch fuel injectors to regulate air intake, a rear adjustment wing that creates a downward force to keep the vehicle on the track at high speeds and two parachutes to slow the car down at the end of races, Wilson explained.
"It can go a quarter of a mile from a dead stop in 6 seconds," he continued.
Of course, safety is paramount when driving under such extreme conditions, so the Corvette also is equipped with fire extinguishers, computers to monitor fuel management and shift transmission and nozzles next to the engine and transmission panel, Wilson said.
A sample of vintage and classic cars at the cruise include a red, white and blue Rambler, a 1968 Ford two-door LTD, a cream-colored 1955 Chevrolet truck, a 1961 Ford Galaxie and a 1968 Mercury Cougar.
The event also features disc jockeys and plenty of live music.
Major roads in and near downtown will be closed to traffic or converted to one-way streets. Nevertheless, State Street, the city's main thoroughfare, will remain open.
More like this from vindy.com