Summary of recent criminal activity in Poland and Boardman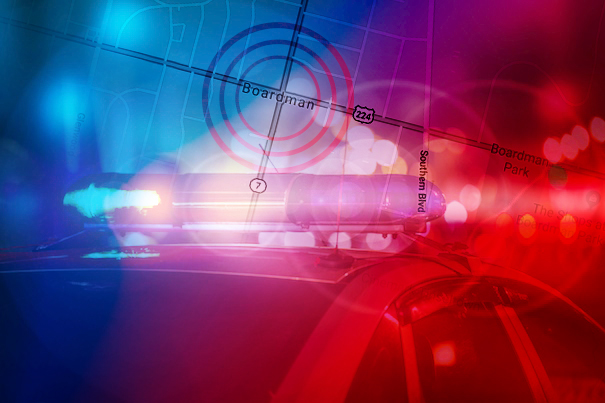 ---
POLICE CALLS
A summary of recent criminal activity in Poland and Boardman townships:
POLAND
June 3
Harassment: A Manor Avenue woman said she's being harassed via telecommunications.
June 4
Damage: An entrance sign to Poland Township Park off Struthers Road sustained damage.
June 6
Identity fraud: A Bedford Road woman learned that her debit-card number had been used without authorization.
BOARDMAN
June 2
Arrest: After pulling him over near Market Street, officers arrested Michael E. Edwards Sr., 36, of Benita Avenue, Youngstown. He was wanted on a city warrant charging failure to appear in court.
Assault: After responding to a fight in the parking lot of a restaurant in the 7300 block of South Avenue, police filed a simple-assault charge against Esther Plourde, 43, of Carter Circle, Boardman, after a woman alleged Plourde had shoved her into a window. Security footage also showed Plourde pulling the victim's hair, a report stated.
Criminal damaging: A vehicle in the 100 block of Stadium Drive was found with a damaged rear window.
Citation: A suspicious vehicle on Sheridan Road drew officers' attention before they wrote a minor-misdemeanor citation charging Helen Ebright, 24, of Elm Street, Struthers, with having two suspected marijuana cigarettes.
June 3
Criminal mischief: Canfield authorities handed to Boardman police Claire L. Richards, 18, who faced a criminal-mischief charge. Richards, of South Canfield-Niles Road, Canfield, was accused of tossing eggs at and striking a vehicle and a mailbox at a Doncaster Drive residence.
Fraud: Police received information that someone was improperly using another person's credit card at Papa John's Pizza, 1307 Boardman-Poland Road, before they charged Delphine D. Black, 29, of West Judson Avenue, Youngstown, with misuse of a credit card and identity fraud. Black, who also was wanted on a felony warrant from Trumbull County, used the person's credit card to place an $8 fraudulent charge for an order at the pizzeria, a report showed.
Theft: Two Annawan Lane residents noticed their cars had been entered. Stolen from one of them was an $800 cellphone.
Domestic violence: Authorities were dispatched to the Trumbull County jail to pick up Kavin O. Moore, 29, of Northgate Avenue, Liberty, who faced a felony charge, related to a Feb. 20, 2017, situation in which his girlfriend alleged that during an argument, Moore punched her left eye. The victim was treated at St. Elizabeth Boardman Hospital for an eye injury, a police report stated.
Theft: Bradley A. Dustman, 23, of South Main Street, Columbiana, faced a charge after about $65 worth of merchandise, including an auxiliary cable, was stolen from Walmart, 1300 Doral Drive.
Auto theft: A New Springfield man told police his 2007 Chevrolet Cobalt had been stolen in the 400 block of Orlo Lane.
Theft: Maranyelee Nieves-Cancel, 36, and Jose A. Franco-Rivera, 29, both of Palmer Avenue, Youngstown, were charged with taking $122 worth of clothing from Walmart.
Theft: A Boardman boy discovered his $725 iPhone missing from a locker at a McClurg Road business.
Animal complaint: A Dover Road woman reported a loose pit bull attacked and killed her cat.
Harassment: A Glenwood Avenue couple alleged her former spouse had been sending them unwanted text messages.
Theft: An Orlo Lane man noticed his wallet and a handgun missing from his vehicle.
Theft: Laura M.A. Vogt, 19, of North Lima Road, Poland, was charged in the theft of $66 worth of merchandise from Walmart.
June 4
Arrests: Officers received information that six juveniles were trying to break into a Euclid Boulevard home before they charged three Youngstown boys, ages 14, 15 and 16, with attempted burglary, obstructing official business or being unruly juveniles. The teens fled without gaining entry, however, a report said.
Theft: A wallet, an iPod and a set of headphones were among items taken from a vehicle in the 300 block of Meadowbrook Avenue.
Burglary/auto theft: A man reported someone broke into his Ferncliff Avenue home, removed a set of car keys from the kitchen, took a flat-screen TV and left in his 2017 Ford Expedition.
Domestic violence: An 11-year-old Boardman boy was charged with domestic violence, obstructing official business and resisting arrest after his guardian alleged the boy had punched her face and kicked her in the legs. He also refused to comply with police and continued his turbulent behavior in a cruiser, authorities alleged.
Theft: Someone in the 7300 block of West Boulevard stole a $130 athletic wristwatch and other items from a car.
Possible theft: A township man said his wallet was lost or stolen while he patronized a Southern Boulevard big-box store.
Theft: A West Boulevard woman reported a $75 antique cast-iron can opener stolen from her vehicle.
Theft/forgery: A Brookfield Avenue man learned that his credit card had been used without permission to make a $332 fraudulent charge, as well as additional such activity in Austintown. He also discovered seven checks missing that were forged.
June 5
Burglary: A woman told authorities three women came to her South Schenley Avenue apartment, then struck, punched and kicked her before stealing a cellphone and several Sony PlayStation 4 video games. The victim suffered swelling to her right eye and the back of her head.
Harassment: A Maple Drive man said he received nine unwanted calls and three text messages, some of which were threatening in nature.
Theft: Police picked up Alyssa M. Gerbic, 21, at the Trumbull County jail on a theft charge, related to a shoplifting situation in June 2016 in which the Parma woman was accused of stealing $250 worth of clothing from Dick's Sporting Goods, 550 Boardman-Poland Road.
Citation: A traffic stop in the 4900 block of Market Street resulted in a minor-misdemeanor citation charging Will J. Howard II, 37, of North Bruce Street, Youngstown, with having a small bag of suspected marijuana in his pocket.
Fraud: Marsha R.M. Young, 23, of Chicago Avenue, Youngstown, faced one felony count each of theft by deception and telecommunications fraud after authorities were dispatched to the Trumbull County jail. Young was accused of depositing two fraudulent checks that totaled $2,379 into an account Jan. 10, 2017, at Chemical Bank, 3900 Market St.
Vandalism: A Terrace Drive couple found multiple dents on their vehicle, as well as three slashed tires and spray paint, leading to a $3,000 damage estimate.
Citation: An officer on patrol in the 7000 block of Tiffany Boulevard issued a minor-misdemeanor citation charging Todd J. Moffie, 41, of Mathews Road, Boardman, with disorderly conduct while intoxicated.
June 6
Aggravated menacing: A Southern Boulevard woman alleged a friend made an implied threat that he could shoot her, apparently after having become upset at the accuser for having contacted his mother about another matter.
Arrest: Officers at a Doral Drive grocery store took Pamela M. Sneed, 55, into custody upon discovering Sneed, of Market Street, Youngstown, was wanted on a Trumbull County Sheriff's Department warrant charging failure to appear in court.
Assault: A welder with a Simon Road business alleged a co-worker with whom he has ongoing problems punched his face before the fight between them was broken up.
Drugs: During a traffic stop on Market Street, police seized eight over-the-counter pills that were not in a bottle, though no arrests were made as the investigation continued.
Robbery: Authorities responded to a possible emergency at a home in the 200 block of Charles Avenue, where a woman alleged her sister had struck her over the head with a heavy glass decoration during an argument, stole her $800 iPhone and left before having been reportedly seen walking near Southern Park Mall. The victim suffered severe bleeding to the head, police said.
Theft: Someone removed $5 in change from a vehicle in the 4600 block of New England Boulevard.
Menacing: A woman at a Market Street motel said a man has been continually stalking her.
Theft: Lauren B. Clark, 18, of Arlene Avenue, Boardman, was charged in the theft of $67 worth of property from Target, 417 Boardman-Poland Road.
Identity fraud: A Pearson Circle man told police he received a $327 bill from a Columbiana company for which he had never done business, possibly the result of someone having rented a car from the company using the accuser's personal information.
Identity fraud: A Meadowbrook Avenue woman found out her debit card had been used without authorization to make five fraudulent online charges that totaled $727.
Bad checks: Brookfield police handed Paula J. Dulaney, 48, to Boardman authorities. Dulaney, of Filer Road, Mercer, Pa., was charged with one count of passing bad checks after a $1,000 check passed Jan. 6, 2014, at Preston Auto Co., 7554 Market St., was returned for nonsufficient funds.
Theft: Two vehicles in the 200 block of Indianola Road were ransacked. Several items that included $8 in change were removed from one of the cars.
Theft: Police filed a theft charge against Crystal L. Slagle of Hamilton Boulevard, Struthers. Slagle, 46, was accused of stealing $28 worth of items that included a can of sliced carrots from Walmart.
Unauthorized use of a vehicle: Authorities arrested Ricki Hill, 63, at his West Midlothian Boulevard residence upon ascertaining the Boardman man was wanted on a charge of unauthorized use of a vehicle. Hill's roommate alleged he took her 2005 Chrysler 300 last month and intentionally failed to return it at the agreed-upon time.
Theft: Abigail L. George, 19, of Lockwood Boulevard, Boardman, was charged with stealing from Target $143 worth of merchandise, including a candle.
Theft: An Indianola Road couple noticed their vehicles had been entered and that a credit card and a touch-screen radio/compact disc player were missing.
More like this from vindy.com