Hubbard grad, NFL player gives backpacks to kids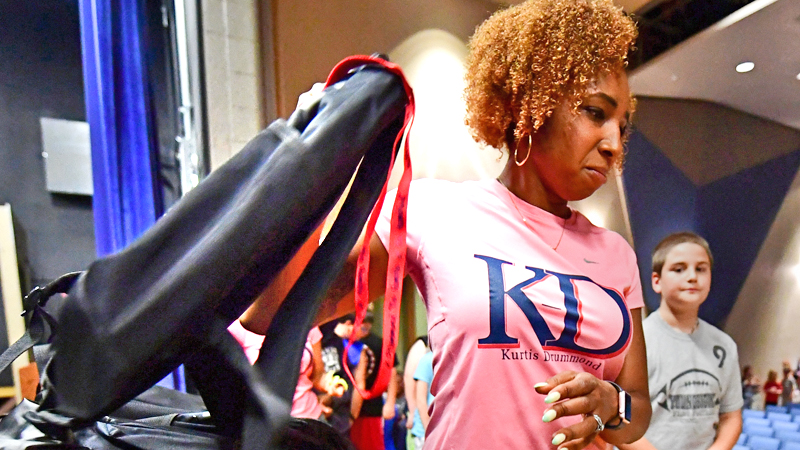 ---
By WILLIAM K. ALCORN
alcorn@vindy.com
HUBBARD
Kurtis Drummond, former Hubbard High School and Michigan State University football player and now a safety with the National Football League's Houston Texans, seemed to get as big a kick giving out Nike backpacks filled with school supplies as did the 300 kids who received them Saturday afternoon at the Hubbard High School auditorium.
He smiled as the kids in fourth through ninth grades filed across the stage to receive their backpacks, and he posed for pictures with them.
"It's contagious. It makes you want to do more," he said.
Drummond said he provided the backpacks and school supplies as a way to "give back to the town I grew up in and show how much I appreciated it."
Drummond graduated in 2010 from Hubbard, where he garnered Associated Press All-Northeast Inland Division II Third-Team honors as a senior.
He played at MSU from 2010-14, where he had 12 career interceptions, seventh-most in program history, and was an undrafted free agent in 2015 with the Texans with whom he played 34 games in his first three seasons in the NFL.
The backpack giveaway was the first such event for Drummond, but he said it will not be his last.
Drummond already is planning a football camp in Hubbard during the 2019 pro off-season for area youths.
In fact, after the backpack event, Drummond's staff members talked to Brian Hoffman, Hubbard High head football coach who coached Drummond during his high-school career, about setting up the camp.
Hoffman, a 1989 Hubbard graduate and Masury resident, as was Drummond before he moved to Hubbard, counted it a "privilege to coach Drummond in high school."
"He was a good student and person who worked hard and did the right things. I'm extremely proud of where he is in his career and in life. He is talented, but it is his hard work that sets him apart," Hoffman said.
Drummond returned the compliment.
He said Hoffman and his staff cared about the football players as people and students and helped them along the way in school and in life. He said MSU coaches had the same values.
"I want to show kids that it is important to give back. I want to lead by example," said Drummond, who noted he never had a backpack himself.
His gesture seemed to be working.
While waiting for the event to begin at 2 p.m., several families spoke about Drummond.
"It is a nice thing for him to do," said Yasmin Ismail, 11, who will start sixth grade at Hubbard Schools in the fall.
She was at the event with her younger sisters, Tess and Janeen, and her father, Said Ismail, who said of Drummond: "He has loyalty. We appreciate what he is doing for the community. He is a good example for the kids."
"It is wonderful he is giving back to his community," said Alyson Jumper, a 1989 Hubbard graduate, who brought her school-age children to the event: Mya Jumper, 11, Mikenzie Jumper, 13, and Mikayla Jumper. Her son, Kurtis Kurtanich, is a 2015 Hubbard grad.
Before the backpacks were passed out, the students were invited to ask Drummond questions.
They learned his favorite high-school subject was mathematics; that he has a 95-pound pit bull named Draco that he described as a "big lap dog"; and that his inspiration is his mother, Evette Drummond of Masury, seeing how hard she worked when he was little.
Evette said she is proud of the man her son has become and the way he handles life. "I like the passion he has for children," she added.
More like this from vindy.com