The Inn celebrates Mother's Day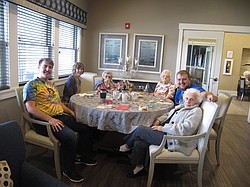 Photo
Neighbors | Zack Shively.The families at The Inn at Poland Way ate lunch together in different dining areas throughout the facility. They ate sandwiches, egg salad and a dessert. Pictured are the Guidos and Tribby families dining together.

Photo
Neighbors | Zack Shively.The Inn at Poland Way had to make room for all of their guests. They placed tables in the dining area, in small rooms and in the lobby. They had 85 guests at the event.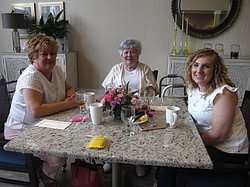 Photo
Neighbors | Zack Shively.The Inn at the Poland Way had a Mother's Day event on May 12 for the resident moms at the facility. The families spent time and had a lunch together. Pictured are, from left, Leanne Franceschelli, Esther Sabol and Alyssa Franceschelli.
By ZACK SHIVELY
The Inn at Poland Way celebrated Mother's Day with families and guests coming to the facility for lunch on May 12.
They provided the guests and residents with food and drinks. They set up tables in their large dining area, in small rooms in the front of the building and in the lobby of the facility for the 85 guests that visited.
"I just wanted to honor resident moms and make them feel special," said Activities Director Kathy Boosinger. She wanted to give the residents a night to remember. She was pleased with the large turn out.
The facility gave the residents and guests small sandwiches and egg salads with the choice of three desserts. They also raffled off centerpieces from Wildflower Cove to the residents.
"It's heartwarming to see residents with family and enjoying the evening," said Diane Reese, who owns the Inn at the Poland Way and other Briarfield homes with her husband Ed Reese. She always enjoys being able to incorporate the family in events.
The facility plans on making the event an annual one. Boosinger said the event was a nice one for families to spend time together.
More like this from vindy.com