Library welcomes writer and hiker for presentation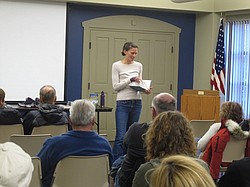 Photo
Neighbors | Zack Shively.Author Jennifer Pharr Davis spoke at the Boardman library about her book "The Pursuit of Endurance." She talked about her story and the stories of other hikers. Pictured, she read a portion of her book about William Doyle, an important person to her life and another accomplished hiker.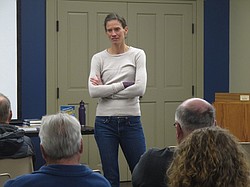 Photo
Neighbors | Zack Shively.Author and hiker Jennifer Pharr Davis spoke at the Boardman library on April 19 about her trips hiking and what hiking has done for her life. She has hiked many trails including the Appalachian Trail three times. She once had the record for the fastest known time on the Appalachian Trail, the first time a female set the record.
By ZACK SHIVELY
The Boardman library invited author and accomplished hiker Jennifer Pharr Davis to the library to speak on April 19.
Pharr Davis spoke about her book, "The Pursuit of Endurance: Harnessing the Record-Breaking Power of Strength and Resilience." She delivered not only her stories of growing up and hiking, but she also shared the stories of other notable hikers. She focused on the Appalachian Trail, which she completed in the then fastest known time in 2011.
"My greatest adventure is motherhood," said Pharr Davis near the end of her presentation. She wrote the book while pregnant, which she explained was a challenge.
She started with the question of why people want to go on challenging hiking adventures. She believes that people have a primal urge to be in nature, as people had been largely outside most of the time for most of the history of humanity, whereas we spend most of the day inside now.
Another reason often has to do with emotional change. She took a class on preparing for the Appalachian Trail before she hiked it for the first time at the age 21. Her instructor, professor Warren Doyle, has hiked the trail 17 times. He explained that the preparation has less to do with physical strength and more to do with mental strength.
She said her hikes have been challenging but incredibly rewarding. She made friends with those who are very unlike her on the trail, and the experience changed her values. She also loved being in an environment that taught her to find self-worth in what she could accomplish and do as opposed to how she looked.
Her book includes passages about other hikers, and she talked about a few of them and read passages from her book about them. She talked about Doyle, David Horton, Scott Williamson and Heather Anderson.
After the presentation, she did a short question and answer portion of her presentation, including a question about her "trail name," a nickname given to hikers on the trail. She is known as "Odyssa," a feminine take on Odysseus from "The Odyssey."
She sold her book and previous books after and autographed them for the attendees. Her other books include "Called Again" and "Becoming Odyssa."
More like this from vindy.com