Holy Family students honored for academic achievement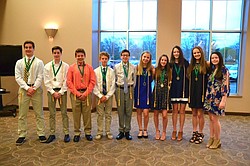 Photo
Neighbors | Submitted.Eighth-graders honored at the Holy Family Academic Awards event on May 3 received cords to wear at their graduation. Pictured are Jack Desmond, Jack Pepperney, Mitchell Tofil, Camden Forsyth, Tyler Hayes, Jenna Hughes, Angelina Rotunno, Grace Raymer, Alaina Scavina and Paige Ogden.
Holy Family School celebrated academic achievement for sixth-, seventh- and eighth-grade students on May 3.
Eligibility requirements for Academic Awards include the following: students must receive a 3.7 grade point average or higher on a possible 4.0 scale during the 2017-2018 academic year (students in accelerated math classes are on a 5.0 scale) and students must be in sixth-, seventh- or eighth-grade.
Dominick Daltorio, assistant principal at Austintown Middle School, was the guest speaker of the event. Daltorio is an alumni of Holy Family School and shared his experiences at Holy Family and how each teacher impacted his life.
Each student was presented with an award. Eighth-grade students also received their honors cords that they will wear for graduation.
Students awarded at the event were sixth-grade - Giovanni Beato, Matthew Boccieri, Liam Burk, William Desmond, Sophia Diorio, Helen Faur, Chase Forsyth, George Gabriel, Dominic Graziano, Logan Hackstedde, Dayna Hughes, Braden Joss, Andrew Kali, Bree Latell, Liberty Lavell, Aidan Markey, John McNally, Abe Rogers, Delaney Savaet, Ella Schrickel, Ella Szalay, Jason Vuksanovich, Jillian Zidian; seventh-grade - Griffin Barton, Patrick Dambrogio, Alec DelSignore, Maria Fire, Sophia Graziano, Serena Grenga, Alex LaPlante, Todd Miller, Daniella Patrone, Sophia Sdregas, Joseph Sfara, Nicolette Tsikouris, William Varley, Joseph Zeno; eighth-grade - Jack Desmond, Camden Forsyth, Tyler Hayes, Jenna Hughes, Paige Ogden, Jack Pepperney, Grace Raymer, Angelina Rotunno, Alaina Scavina and Mitchell Tofil.
More like this from vindy.com