Dogs provide therapy at Beeghly Oaks

Photo
Neighbors | Zack Shively.Sit Means Sit Mahoning Valley visited the Beeghly Oaks on April 14. The stop at the facility was one of many during the day for the dogs as they trained to be certified by the organization.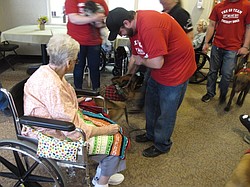 Photo
Neighbors | Zack Shively.Traci McCoy, the Recreational Director at Beeghly Oaks, said the residents were excited to meet with the therapy dogs. Pictured, Roberta Azara pet the 19 dogs that Sit Means Sit Mahoning Valley brought to the facility.
By ZACK SHIVELY
Beeghly Oaks Center for Rehabilitation and Healing invited therapy dogs to their facility on April 14 to interact with the residents.
Traci McCoy, recreational director, brought the dogs in to excite the residents. Sit Means Sit Mahoning Valley reached out to Beeghly Oaks to help the dogs with their training.
"It's very therapeutic for [the residents]; they love it,' said McCoy. She had a few residents come out of their rooms to enjoy the dogs in the hallway. She asked all the residents if they wanted to see the dogs, and she noted each of the rooms the dogs were allowed to visit.
The stop at the rehabilitation home was one of many visits the dogs made throughout the day. They trained for eight hours to receive certification. They train for movement, on things like escalators, public behavior, such as behaving on a bus, and therapy. The organization brought 19 dogs to the event.
Those who received training become part of the international Sit Means Sit Go Team, which brings dogs to different areas of the world that could use their services. For example, the Go Team brought dogs to Parkland, Florida after the shooting at Marjory Stoneman Douglas High School and to areas in Texas affected by Hurricane Harvey. They have approximately 860 dogs internationally.
Melissa Simko, owner and trainer of Sit Means Sit Mahoning Valley, led the group. She opened the Mahoning Valley chapter three years ago.
Also at the event was Nancy Trepagnier, the creator of Sit Means Sit. She started the group in 2012 in Colorado with just two dogs. They helped victims of a wildfire in Colorado.
Simko said that not all of the dogs involved in the training would become certified. Each year, the certified dogs have to recertify through training. All of the dogs belong to the owners and the organization will train any type of dog.
More like this from vindy.com