Jarvis' arm, bat lift Trumbull to split in 15th Sferra Classic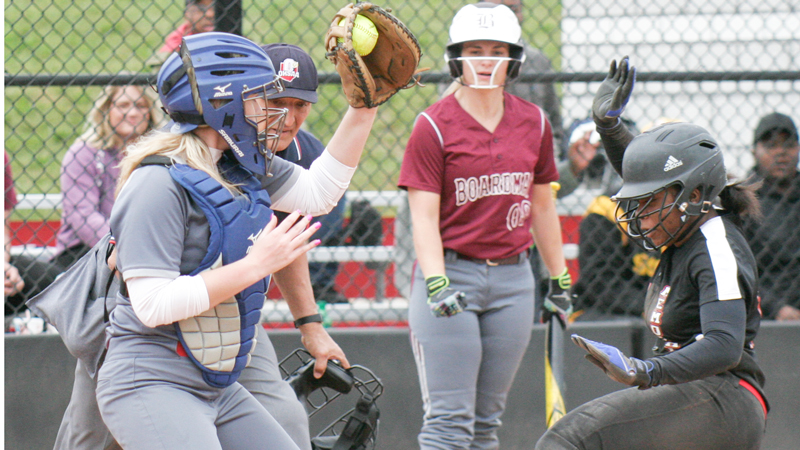 ---
By Tom Williams
YOUNGSTOWN
Addy Jarvis made herself feel quite comfortable at her new softball home.
The Mathews High School graduate closed out her varsity career on Wednesday by pitching the Trumbull County All-Stars to a 7-2 victory to earn a split against Mahoning in the 15th annual Bill Sferra Softball Classic.
In the first game at Youngstown State University's Softball Complex, Jarvis contributed a two-run homer and a RBI double in a 6-5 loss.
"It was a lot of fun," said Jarvis who will be playing for the Penguins next season. "Before we came here, my Dad goes 'Hey, hit a home run on your [new home] field.' I didn't think I would — it was kind of cool."
Trumbull trailed 1-0 going to the fourth inning. Lakeview's Avrey Steiner doubled and scored when Champion's Alayna Fell singled.
Fell and teammate Megan Turner won three state championships in their four-year varsity career. Fell sometimes patrolled the outfield while a designated player batted for her.
"It was a lot of fun," Fell said of swinging the bat. "I don't do that often so it felt pretty good."
Fell scored when Jarvis homered for a 3-1 lead.
Mahoning sliced the lead to one in its next at-bat as Lowellville's Olivia Sotlar doubled and scored on Struthers' Julia Neifer's single.
Mahoning went ahead 4-3 in the fifth inning when Boardman's Gloria Hynes hit a two-out, two-run single to score Poland's Sarah Boccieri and Cardinal Mooney's Kelly Williams.
RBI doubles by Lakeview's Tori Wells and Jarvis allowed Trumbull to regain the lead 5-4. The damage might have been worse except Mooney's Lauren Frommelt at third base made an unassisted double play.
"I was just thinking [I needed to] make a play and not let the runner on third score," Frommelt said.
In her next at-bat, Frommelt's RBI double tied the game.
Frommelt said the ending of her varsity career "is kind of sad but I'm glad it ended in a happy, upbeat way, especially with the win. It's kind of cool to play with people you've played against, had a rivalry with."
An inning later, Struthers' Khaylah Brown scored the winning run when she stole third base and came home on an errant throw.
"You could tell by the way the third baseman was [looking] that it bounced past her," said Brown, who enjoyed the experience. "I loved [meeting] all the new girls.
"It's fun because everybody plays different positions, you get to play with different people," Brown said.
In the second game, Jarvis limited Mahoning to three hits, all in the fourth inning. South Range's Madison Weaver doubled and Hope Thomas singled before Ursuline's Jordyn Kenneally singled for a 2-1 lead.
Trumbull erased the deficit with five runs in its next at-bat. Jarvis and Newton Falls' Alex Staton ignited the rally with bunt singles.
Girard's Abbey Porter connected for a RBI double and Southington's Mackenzie Schwab hit a sacrifice fly to score her classmate Haley Scholten.
Jarvis said she enjoyed once again "playing with a ton of girls I've played with my entire life. We've all played travel [ball] together."
Fell, who will attend Ohio University in the fall, said she had fun "getting to meet some new people and play with old friends." She admitted that Saturday's state championship win over Cardington-Lincoln has not quite sunk in.
"It's still feeling pretty surreal at this point, just an incredible feeling to say you are a state champion, let alone three times," said Fell, who had two bunt singles in the second game.
More like this from vindy.com