Girard Mahoning River Flats Canoe/Kayak Launch ribbon-cutting ceremony is Saturday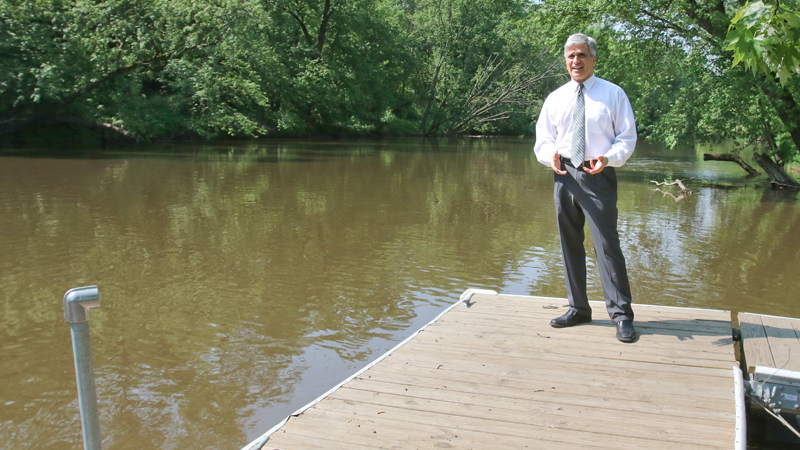 ---
By SAMANTHA PHILLIPS
GIRARD
The weather is warming up just in time for the opening of the city's new canoe and kayak dock along the Mahoning River.
There will be a Girard Mahoning River Flats Canoe/Kayak Launch ribbon-cutting ceremony at 10 a.m. Saturday, and the public can use it for free thereafter.
The dock is under the Girard McDonald viaduct.
The project started a few years ago, when a consultant recommended city officials apply for a grant from the Ohio Department of Natural Resources Water Division.
Mayor James Melfi saw a recreational opportunity for the city and a way to use the river, which runs through it.
He hopes the project will bring in nature lovers from out of town, and draw people to the downtown area just past the bridge.
The project also aligns with the city's efforts to develop its park and recreational area.
"I was excited about potentially bringing more people to the downtown Girard area," Melfi said. "My goal is to make improvements to our business community."
Councilwoman Lily Martuccio agreed the dock will be a good way to bring people in.
"We had a slogan years ago saying 'Girard is the heart of it all' because the city is situated between Interstate 80 and state Route 11. Now with this launch, we can start to shed positive light on our recreational areas," she said.
The city spent about $20,000 from the general fund and was awarded the $68,855 ODNR grant in 2016 for the project.
The costs covered clearing any debris from the area, creating a parking lot, maintaining the landscape, construction and testing fees for required state permits, including a test to make sure the dock wouldn't disturb mussel and salamander habitats.
"What was difficult is there were lots of regulations that were very costly," the mayor said. "For being a smaller project, it was one of the most difficult because of all the regulations."
He noted citizens may think city hall has red tape, but they have never dealt with red tape until they try to do something riverside.
The dock is close to a small neighborhood, but the riverside property is city-owned.
The residents of the homes opposed the idea of a dock at first, but now that it's come to fruition, Melfi said he hasn't heard complaints.
The next steps will be to get signage and continue maintenance.
Melfi has coordinated with the city's fire department to get river rescue, should anyone need help while they kayak or canoe.
One of the city's goals is to create recreational areas that people of all ages can enjoy, the mayor added.
More like this from vindy.com