YSU hurdler Zallow hopes to repeat his best of 2017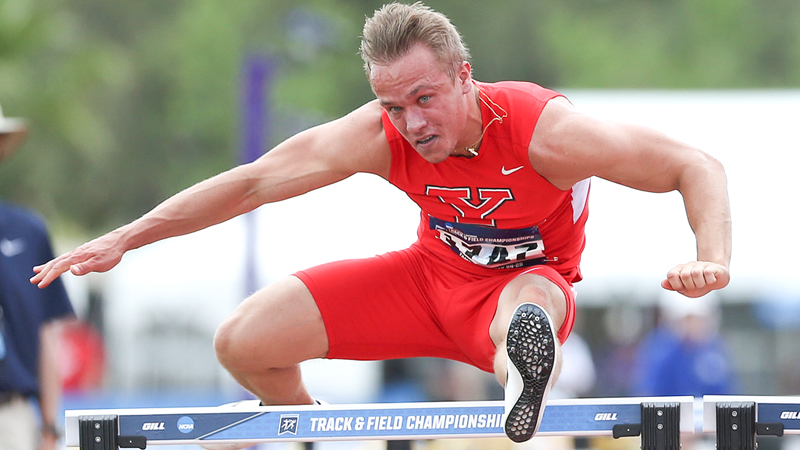 ---
By BRIAN DZENIS
bdzenis@vindy.com
A vintage Chad Zallow is needed today.
If the Youngstown State junior hurdler can reproduce some of the magic he had his sophomore year in the 110 hurdles, he has a good shot of competing for a national title this weekend at Hayward Field in Eugene, Ore.
"I ran [13.37] last year and I would love to get back down to those lower 13-second times," Zallow said. "I feel like there's a very good possibility this week just with the environment and the competition level that I have here.
"I feel like it's a good time for me to get out to the finals and I think I have a good shot of doing that."
Zallow, a Warren JFK graduate, is running in the semifinals tonight on national television. He made it this far after winning his heat on May 26 in Tampa, Fla., running 13.75 in the rain.
In his sophomore year, Zallow's 13.37 was the fastest time in the nation at the time. He hasn't reached that time again this season and while a lower time would help him, it's not essential.
Place trumps time in the NCAA Championships and that system works in Zallow's favor. He'll run in the third semifinal at 8:32 p.m. He avoids his longtime nemesis — Florida world record-holder Grant Holloway — and strong contender Ruebin Walters of Alabama, who are racing in the first and second heats, respectively.
"I feel like I'm in a competitive heat," Zallow said. "Whatever heat I'm in, I'm going to run to the best of my ability."
Zallow figures to be no worse than top three in his heat. Illinois' David Kendziera is the favorite of the heat with a seed time of 13.40.
After him, Zallow and Florida State's Trey Cunningham (13.66) will battle for that No. 2 spot. The top two placers in each heat advance, plus the next two fastest times.
Last year, Zallow finished ninth, missing out on the finals by 0.02 seconds.
The difference this year is YSU changed up how often Zallow competes to put him in better condition come NCAA time.
"We didn't travel much. We were on the West Coast twice and we went to Florida twice last year and we cut that back to keep him a little more fresh," YSU coach Brian Gorby said. "He didn't come with us to BYU [on May 11] to keep as fresh as possible for these next few days.
"He's looked the best he's ever looked at the end of the season."
Gorby likes Zallow in the beginning of his races — he said he "probably has the fastest start in the nation" — but they've been working on getting him to maintain that speed through the final three or four hurdles.
"I've been working on my speed, working on my form and fixing the minor things before getting out to nationals," Zallow said. "The main thing has just been staying fresh and staying healthy."
This week will be Zallow's last race in Eugene with the NCAA moving its track and field championships to the University of Texas next year. Oregon has grown on him.
"It's Track Town USA. Everybody loves track out here. The facilities are unreal and it's just a huge honor to be out here," Zallow said. "I'm just trying to soak it all in."
More like this from vindy.com