Valley Christian graduate rises above inner-city turmoil, enlists in Air Force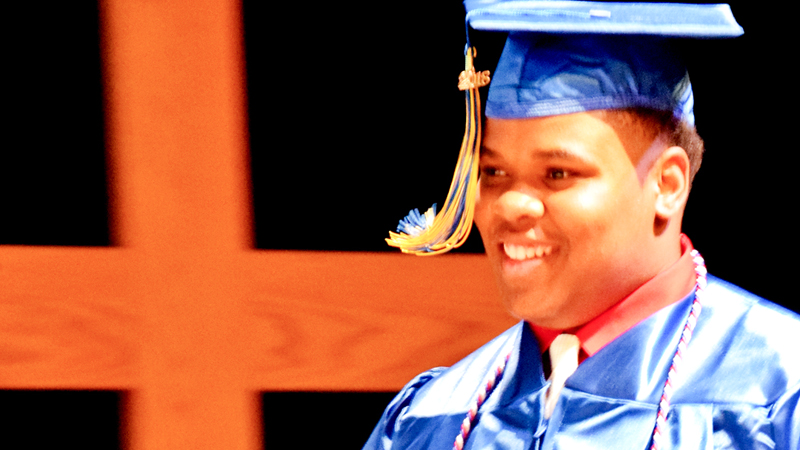 ---
By Bob Jackson
AUSTINTOWN
Randy Madison feels he has a lot to prove to himself and others, so he's aiming high.
Madison, 17, was a part of Valley Christian School's Class of 2018, which graduated Sunday afternoon during a ceremony at Highway Tabernacle at Kirk and Raccoon roads. He's joining the Air Force in October.
He enlisted partly because he feels like he was destined for the military. His biological father and grandfather, and his adoptive father, were all in the armed forces.
"I just felt like this was something I was meant to do," he said.
But there was a higher calling that came from within himself. Because of drug abuse and other issues within his family, people told him early on that he'd be lucky just to graduate high school, and would probably never get past life on the streets of Youngstown. He rejected that notion, and set about getting himself on a track for success.
"I have to be the one who makes it, who makes something of myself and my life," Randy said honestly. "The Air Force is the highest thing you can get into, so I'm going there."
Surrounded by negative influences as a child, Randy decided he wants to be a positive influence on other children within his family circle. He relied on prayer and God to keep him strong.
"This is something I had to push past and get through," he said. "If I can't get past this, then how am I going to be a positive role model for my nieces and nephews?"
The quote he chose to be included in the senior class book is, "You never knew my struggle, so how do you know my hustle?" The meaning, he said, is that he doesn't want to be judged by his past, but he's using that past to fuel his flight into the future.
Class President Bristen Evans said his leadership role helped him develop skills to get to know people better.
"I tried to make sure everybody has a voice," he said. "I did that by making sure I talked to everybody."
Evans plans to study civil engineering at Youngstown State University in the fall, and hopes to some day join a local engineering firm.
"I want to stay and work here in Youngstown," he said. "I want to help build up the city."
Valedictorian Meri Johnston also plans to attend YSU, where she'll major in psychology. She plans, though, to take her degree away from Youngstown, although she hasn't decided where she's headed.
"I just want to experience new things outside of this area where I'm comfortable," she said.
She encouraged her classmates to remember that "learning doesn't stop at high school. You can learn anywhere, from everything."
She credited Valley Christian faculty, such as physics teacher Dennis Malaska, with making her learning experience fun and memorable.
More like this from vindy.com