East Liverpool native wins Youngstown Marathon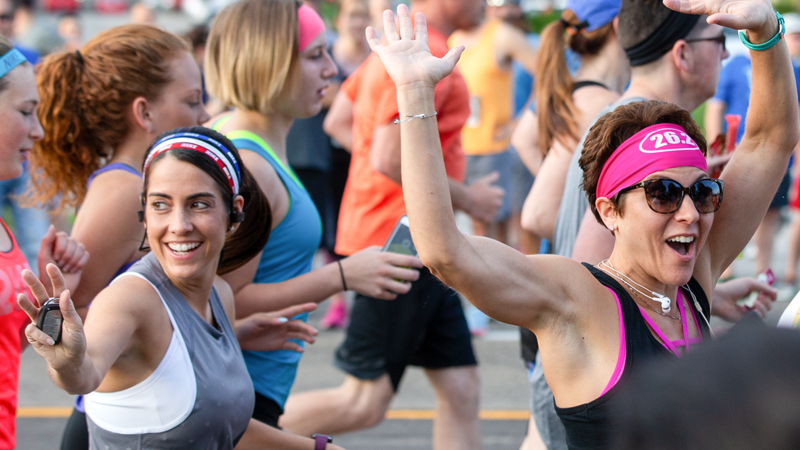 ---
Mount Union graduate wins Youngstown Marathon
By Greg Gulas
BOARDMAN
A year ago, East Liverpool native and Mount Union graduate Erik Reed finished second in the area's inaugural Youngtown Marathon.
On Sunday, he refused to be denied as he improved four minutes and 39 seconds on last year's runner-up finish.
Reed averaged a 6:19 mile, finishing a re-configured 26.2-mile course in 2:45.03 to capture this year's marathon, one of three events — the other was the half marathon and a 5K race — on Sunday morning.
Reed set a torrid pace for his fellow entrants to follow, finishing 11:31 faster than second-place finisher Jonathan "Scooby Doo" Bolha (2:56.35) of Canfield and 12:12 ahead of Ross Henry (2:57.15) of Chagrin Falls, who placed third.
"My goal was to win, but run a more honest race than I did last year," said Reed, who is a chemical sales distributor for Univar.
"I was conservative a year ago, but felt like I needed to be more aggressive this year. The change in course didn't affect me because 26.2 miles is 26.2 miles, no matter how you throw it together. Having good weather both years, though, really helped the runners."
Anna Leskov, a native of Moscow, Russia who resides in Beachwood, was the top female finisher as she covered the course in 3:31.08 to finish 15th overall.
In the half marathon, Jonathan Hutnyan of Canfield claimed top honors in 1:15.52, Warren's John Schmalzried was runner-up (1:24.23) while Brian Wilson of Columbiana finished third overall (1:25.03).
Jenny Krueger of Wampum, Pa., was the first female and fifth overall to cross the finish line, doling so in a time of 1:27.23.
Canfield's Mack Mettille, who was runner-up last year in the 5K, captured this year's event in 16:18.88, which was 25.95 seconds better than runner-up Justin Maroni of Boardman, who ran the course in 16:44.83.
Girard's Jon Richmond finished third (16:48.17) while the first two female finishers finished 28th and 29th overall, respectively. Youngstown's Sarah Bashinsky was the top female, covering the course in 22:57 with Paris Fierke-Lepp of Alborn, Minn., the next female, finishing in a time of 23:21.
Bolha liked the course redesign, adding that he enjoyed seeing more of Youngstown this year.
"They took out the Bears Ben Loop and you only had to do Idora Hill once. I really enjoyed looping around YSU, seeing Stambaugh Stadium and the Butler Institute of American Art," he said. "I was racing, but actually using the Youngstown Marathon in order to get ready for Grandma's Marathon, which will be held in two weeks in Duluth, Minn."
Leskov was running her 13th marathon, noting that the Columbus and Chicago Marathon's were much easier from a runner's standpoint.
"This was a tough course, but I felt like I was prepared," Leskov said. "I was pleased with my time, but deep down you always feel like you can do better."
Hutnyan, who graduated from Youngstown State in 2016, worked at Second Sole (the race starting and finishing point in Boardman) and currently resides in Baltimore, where he is employed by Under Armour making kids shoes.
"This was surreal for me today. We always talked about starting the Youngstown Marathon when I worked at Second Sole and it is now a reality," Hutnyan said. "This has been a tremendous undertaking and between Boardman, Mill Creek Park and the City of Youngstown, everything has just been so well coordinated. It was really nice to win today because the Mahoning Valley has a special place in my heart."
Schmalzried said it helped being pushed by both Wilson, and 15-year-old Tony Gallo of Poland, who finished fourth overall.
"The course was challenging because the hills were as tough as any that I have run," he said.
Wilson, a 2002 Columbiana High School graduate, is an electrician.
"I wasn't familiar with the hills on Mill Creek No. 7 and No. 8, and I probably should have checked them before the race but overall I am pleased with my finish and time," he said.
Mettille trimmed 1:25 off of last year's runner-up time.
"I just wanted to run a fast time," he said. "The goal was to get out fast, stay out front and I was able to do that."
Maroni is a 2014 Boardman graduate and just earned his accounting degree from Walsh University. He will begin law school at Notre Dame University in the fall.
"I ran with my A. Ross Douglass t-shirt on so that I could support his campaign for Mahoning County Court Judge in Sebring. I'm just happy that I had a nice finish today," Maroni said.
A total of 929 participants were entered with 140 taking part in the full marathon, 407 in the half marathon and 322 in the 5K. In addition, 40 entered Saturday's kids race and 20 were taking part in the virtual race.
"We had a great turnout, the weather was perfect and everyone from volunteers to runners had a great time," said race director Courtney Poullas.
More like this from vindy.com