Parade, festival celebrate 'new face' of prosperity in Youngstown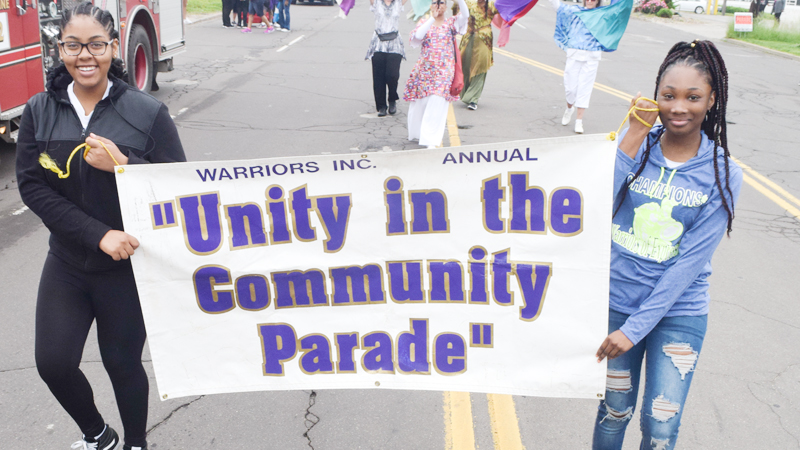 ---
By Bob Jackson
YOUNGSTOWN
On a misty Saturday morning, the message being proclaimed on Market Street was clear as a bell.
"It's about unity. The kingdom coming together in oneness," said Debra Ingram, who led the 14th annual Warriors Inc. Unity In the Community Parade. "Every year, the message is getting stronger."
Warriors Inc. is a Christ-led, community-based organization that seeks to develop youth through a variety of social and economic programs.
Churches, civic groups, youth organizations, car clubs and even a youth fishing club participated in the parade, which started at the Public Library of Youngstown and Mahoning County's Newport branch and headed south 1.5 miles along Market Street to the former South High School, where a Community Day celebration took place on the football field.
As Ingram walked, she frequently let loose with loud blasts on a shofar, a large, hollowed-out antelope horn she obtained on a trip to Israel. She said the shofar represents the voice of God and is meant to bring people together.
"It's releasing hope," Ingram said of the noise. "It's the sound of change and jubilee."
And change, she said, is taking place in the city.
"Youngstown has a new face," Ingram said. "It's a face of life and prosperity. It's a tangible shift in our city, and it's going to continue."
The hope for change and prosperity isn't limited to Youngstown and its surrounding communities, Ingram said. She pointed to her blouse, which contained prints of national flags from all over the world.
"It's not just about the communities, it's about the nations," she said, raising the shofar above her head before giving it another blast. "It's about victory."
John Terry Allen, pastor of Sword of the Lord Ministries on Early Road, was among the many spectators who lined the street to watch the parade and support the marchers in prayer. He said Wendy Robinson of Warriors Inc., who organized the event, is a member of his congregation.
"We're praying that events like this have an impact, and we want to support things like this going on in the community," Allen said. "No one can do it on their own, but we're really proud of Wendy and all the work she's done."
Denise McGeorge of Austintown also took in the parade from a lawn chair she'd set up near the parade's end. Her husband, Joe McGeorge, operates Eagles Christian Preschool, which was a parade sponsor.
"I love it," Denise said of the parade and community day activities. She said it's an opportunity for kids to be involved in the community in a positive way, as well as being able to enjoy the free activities and food at the football field.
"It's a blessing in that sense," Denise said.
Clovis Linkous of Boardman was there to support his wife, Li-Ching, who participated in the parade with her Zumba group. He said they both liked the idea of supporting unity in the community.
Likewise, Bee Cruz of Youngstown had never attended the parade until Saturday, but decided to go because her cousins were marching with their church group.
"I was going to stay home because the weather didn't look too good, but I decided that it sounded like a nice thing, so here I am," she said.
More like this from vindy.com