Youngstown's first black firefighter says he sees 'no negatives'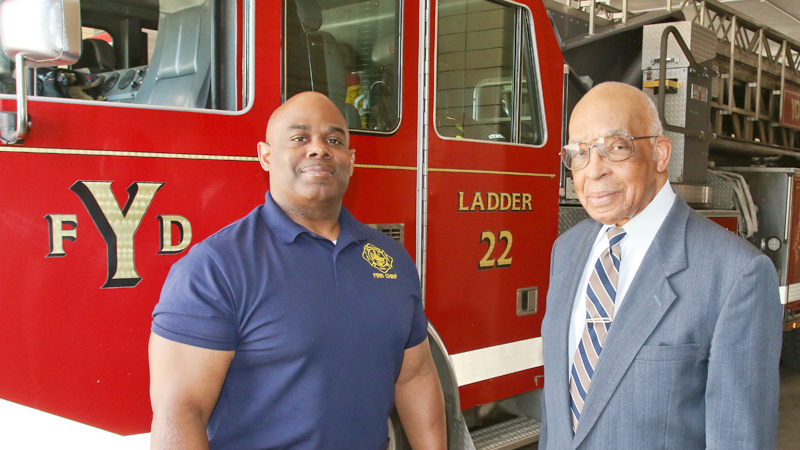 ---
Chief Finley lauds legacy of 1st black in department
By Joe Gorman
YOUNGSTOWN
City Fire Chief Barry Finley brought a lot of credentials to the job when appointed earlier this year to succeed former Chief John O'Neill.
But Finley said he would not be chief or maybe even a city firefighter if not for an 88-year-old East Side resident who decided to get out of the mill and become a firefighter.
That man, Jesse Carter, was the city's first black firefighter. Finley, the city's first black fire chief, said Carter made it possible for him to serve the city.
"If it wasn't for him, I wouldn't be here," Finley said. "We're all standing on his shoulders."
Carter started on the city ambulance when he came to the fire department in 1960 before stints at the main fire station as a firefighter on the rescue squad and administrator for a series of chiefs, He wanted to become a firefighter because he saw that the steel mills were in a "downturn," and he wanted something more stable, he said. He retired in 1991.
"I knew at that time that the mills were on their way down," Carter said.
Carter credited two classmates at The Rayen School who worked on the fire department with helping to ease the transition onto the department.
"The biggest thing was the fellas I went to school with," Carter said.
Other things that helped, Carter said, are that he took the test for the department after not only working in the mill for several years but also after serving in the Army, so he had a lot of experience in how to deal with people.
Carter was a foreman in the mill and in his 30s when he joined the department, which made things a lot easier for him, he said.
The biggest change he has seen since he started as a firefighter was the downsizing in the department after the mills closed because of declining population. As he rose through the ranks, Carter said he never thought of himself as the city's first black firefighter. He said he wanted to be known for his actions and for the way he treated people.
"I wanted to do the job and know as much about the job as I could," Carter said. "I wanted them to treat me as I treated them, with respect."
Finley joined the department in 1993 and began his career on the ladder truck. He had been a captain since 2001.
He also has served as an assistant commander of the honor guard and commander of the technical rescue operations team. In addition, he's been a registered nurse for Mercy Health and a firefighter and paramedic for the Liberty Fire Department.
Carter said he has seen many blacks in the department advance as section heads and one as a battalion chief. He said he is pleased that they are advancing and as for his experience, Carter said he enjoyed it very much and is proud of his service.
"I feel there were no negatives about it," Carter said of his time on the department. "I'm glad to see things have improved the way that they have."
More like this from vindy.com