South Range completes improbable title run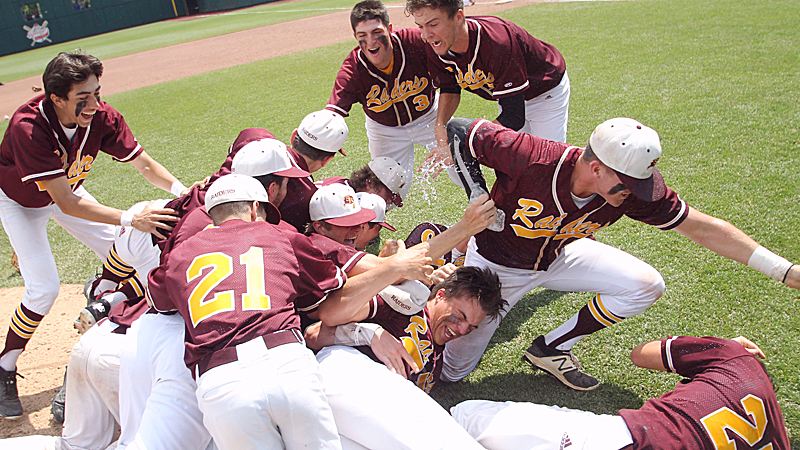 ---
By ERIC MAUK
COLUMBUS
South Range junior catcher Jared Bajerski has had many baseball coaches, but in his biggest at-bat of the year, he used a lesson learned from his father to drive in the eventual game-winning run in the Division III state championship.
Bajerski faced a two-strike count with runners at second and third base when he used some sage advice to drive a ball to center field, sending Jaxon Anderson home for a 3-2 lead over Coldwater at Huntington Park.
"I was absolutely nervous. After I got two strikes on me I remembered my father telling me to shorten my swing and get the bat on the ball," Bajerski said. "Roll your wrists over the top of the ball, get the ball on the ground and drive in the run. I'm happy that it worked."
Given a one-run lead, South Range used a double play to get out of trouble in the bottom of the sixth and then blasted through the seventh to earn the first state championship in school history with a 3-2 win.
"We jumped out to a lead but Coldwater continued to fight, they came back like you expect a team like theirs will," said South Range coach Jim Hanek "My lower half of the lineup came through big again today. Got a big two-strike swing from Bajerski to drive in a huge run. I was considering having Jared squeeze [bunt] there but he's been handling the bat so well so we just let him go."
Bajerski got things started quickly for Raiders (18-15), scoring on Jake Gehring's two-out, first-inning single to stake junior pitcher Sam Brooks to a 1-0 lead. Brooks (5-2) held Coldwater hitless through the first three innings and saw his lead double when Gehring drove Brandon Youngs home with a third-inning sacrifice fly for a 2-0 advantage.
"Just before the game I had some butterflies, but after the first couple of hitters, I was OK," Brooks said. "My two-seamer was working for me today, kept them off balance a little bit. The curve was moving and I felt really good."
The Cavaliers (27-7) came alive in the fourth, turning their first two hits into runs as Jacob Wenning and Nathan Grunden each singled and scored to tie it at 2. Coldwater looked to have the claimed the lead when Noah Miller hit a sinking liner to right field, but Anderson capped a long run with a diving catch to end the threat.
"We were happy to get out of that inning at 2-2," Hanek said. "At that point we knew it was a three-inning game and we had to go find a way to get something going."
Coldwater threatened again in the fifth when Brad Giere singled and Sam Broering walked with one out. But as he did in Thursday's semifinal, Youngs made a dazzling diving play on a line drive, starting a double play that ended the threat.
"I saw the ball leave the bat and I dove and got it," Youngs said. "Their runners had been getting a big lead so I was playing behind the runner, but I was moving to my right and got a good jump on the ball. It feels good. I'm proud of that play, but I'm even more proud of my teammates."
Brooks appreciated the defense behind him.
"My team is always there for me. Always making plays," he said. "When I saw the ball get hit toward Brandon, I knew he was going to make a play. He has been doing things like that all year."
South Range made the big play pay off soon after as Anderson's single and a double by ninth-place hitter Kris Scandy set the stage for Bajerski's short-swing sacrifice fly to regain the lead.
Gehring, who threw a six-hit shutout in a 7-0 state semifinal win over Cincinnati Madeira, moved to shortstop when Youngs took over on the mound to start the sixth. Gehring proved an apt replacement as he started an inning-ending double play to quell the last Coldwater threat.
"Brandon's role has been to carry us in the later innings and he's been in his share of big games. We had full confidence in him," Hanek said. "Sam pitched a great game but it was time to turn it over. It would have been easy for them to lay down after Coldwater came back. But they kept fighting and kept coming back. They earned this."
The victory capped a sterling postseason run that seemed unlikely when the Raiders ended the regular season with a 12-15 record. The state championship is the first in the history of South Range in any sport.
"It means everything to me. It means everything to the team. To our fans, to the community," Bajerski said. "We'll always have the signs and banners up at the school to show what we accomplished this year. That means a lot."
It also could mean a lot to the next crop of Raiders.
"We're just trying to be good role models for those younger guys that love baseball and come out to watch us play," Scandy said. "Shows them that they can do this when they get to this level if they work hard."
More like this from vindy.com