Rebels' Perry wins D-III shot put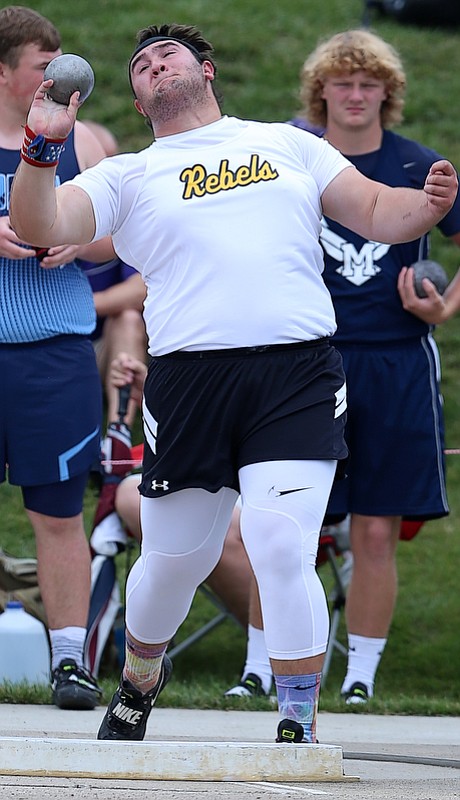 ---
By BRIAN DZENIS
bdzenis@vindy.com
COLUMBUS
Dominic Perry is particular about his preferred throwing environment.
For the Crestview shot put thrower, it isn't enough to have a personal best that's better than the field by about three feet or to be competing in front of a crowd larger than any track meet in which the junior will ever perform.
He needed a specific kind of audience on Friday.
"The runners who qualified, they were cheering me on. My family, my friends, there were a lot of people here for me," Perry said. "It meant a lot to me."
Perry — who likes having his supporters yell as he's throwing — didn't disappoint as he walked away with the Division III shot put state title at Jesse Owens Memorial Stadium. The winning throw — his third — came in at 56 feet, 8 inches. It was 3.5 inches better than runner up Travis Burton of Paint Valley.
"I knew the ceiling on the Paint Valley kid was about 55 or 56. People pull stuff out at state and sometimes they get better," Crestview coach Greg Woolman said. "I was nervous, but at the same time, you know what Dom is capable of. He's capable of bigger throws as well.
"It's still state. You can have some good days and bad days."
Perry is Crestview's first state champion since Jakob Leon won the high jump in 2009 and is Woolman's first champion in his seven-year tenure.
Perry's win was the exclamation point on an excellent first day for the Rebels. Both their 4x200 relay squad of Dylan Huff, Danny Moore, Ethan Powell and Luke Wickline and the 4x100 team of Mitch Lindsay, Jayce Meredith, Moore and Powell each made the finals in their respective events. While they're low seeds, each team is about a second back from first place.
Perry, who took third in a solo trip to state last year, looks forward to returning the favor from the crowd.
"It's really cool," Perry said. "I want these guys to do the best that they can do."
McDonald collected its share of medals on Friday. Junior thrower Zach Gray took fourth and fifth in the discus and shot put, respectively.
"Last year, I was ninth in regionals and now I'm fourth and fifth in the state," Gray said. "I can't ask for a better day."
Malina Mitchell's final state tournament is off to a good start as she helped her 4x800 teammates take fourth place. She'll be part of the 4x400 relay and run the 1600 today.
"I've stood on that No. 4 quite a few times here and it's exciting that we're able to compete at the highest level in the state," Mitchell said. "We would have liked to have placed higher. I know we gave it everything we had and that's all we can do."
In terms of prelims, there were some who put themselves in a good spot for today. Jackson-Milton's Michaelina Terranova holds the second-best time in the state for the 300 hurdles, sitting 0.4 seconds back of Northridge's Olivia Carpenter.
East is in three different finals today. Jahniya Bowers and Kyndia Matlock are the No. 4 and 6 seeds, respectively in the 100, but they face a tough test in Dublin Coffman's Abby Steiner, who set a meet, stadium and OHSAA record in the prelims by running a time of 11.47. The girls 4x200 and 4x100 relays also made their respective finals.
Wellsville sophomore Justin Wright is looking at a possibility of becoming a two-time state champ in his first visit to Columbus after earning the top seed in the 100 and 200.
"That's the big picture coming out here," Wright said. "You get the top seeds in prelims and then take the top place on the podium."
More like this from vindy.com