Champion outlasts North Union in eight innings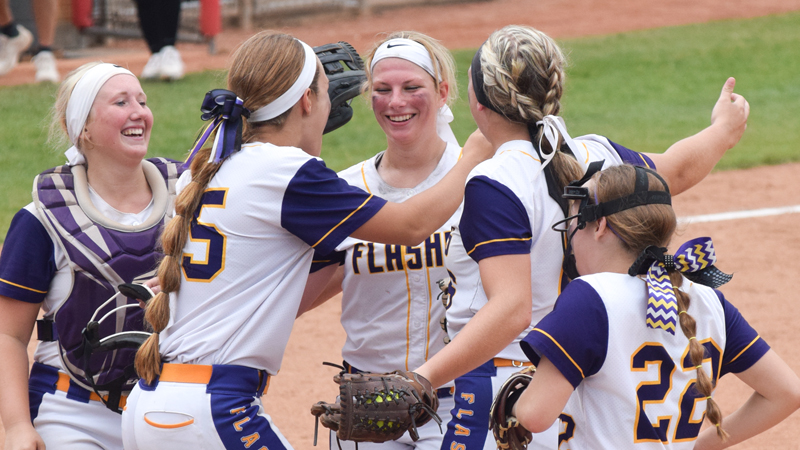 ---
By TOM WILLIAMS
williams@vindy.com
AKRON
Two homers — one expected, the other not so much — lifted the Champion High School softball team from unfamiliar territory to the comfort of home.
Allison Smith's eighth-inning homer was the difference in the Golden Flashes' 2-1 state semifinal victory over Richwood North Union on Friday at Firestone Stadium.

Tonight, the Flashes (30-0) will compete for their fifth Division III state crown in eight seasons and eighth title in school history against Cardington-Lincoln. The Pirates beat Lore City Buckeye Trail 10-0 in five innings in another semifinal.
Smith's smash to center field was the difference in a tremendous pitching duel between the Flashes' Sophie Howell and the Ladycats' Madison Wedding. It was, by far, the tightest nail-biter Champion has played at state since Firestone Stadium began hosting the event in 2008. (Champion is now 9-0 in Firestone state games).
"That was a great one," Champion coach Cheryl Weaver said of the matchup. "It was like looking in the mirror.
"Can't ask for much for than that as for giving people some excitement."
Howell and Wedding kept the contest scoreless until the seventh inning. Then Champion third baseman Abby White connected for the first home run of her life.
"I was just [trying] for a base hit," the junior said. "I'm not a home-run hitter or anything like that. I was just looking for a base hit up the middle and it got past everybody."
White's hit on a 3-2 pitch sailed over the left-center field fence for a 1-0 lead. She admitted she didn't see it clear the fence, saying she didn't realize she had a homer until first base coach Steve Smith told her to slow down.
"It felt great," White said of her first home-run trot.
But the Ladycats (25-3) weren't finished. Avery Clark led off the seventh inning with a homer to tie the game. Center fielder Emma Gumont, who had made a spectacular running grab to end the fourth inning, almost did it again.
She gloved Clark's hit as she was leaping against the fence, but contact with the top brace caused her to lose control of the ball.
"I was just watching the ball, I knew that [Gumont] had a couple of great catches before but I was just hoping and praying that she wasn't gonna somehow catch it," Clark said. "When I saw the ball hit [past] the fence, I was just losing it."
With two outs in the eighth inning, Smith delivered the winning run. Smith was certain it was a homer as soon as she made contact and relief overtook her.
"Today, I didn't have my best hitting day," Smith said. "I actually swung and missed at multiple [pitches]. I think I'm still spinning in my shoes from swinging at them so hard.
"She had a really good riseball, I just got lucky and it happened to go out when the team needed it the most."
Champion finished with five hits, including Cassidy Shaffer's bloop single in the second inning, Megan Turner's double in the third and White's lead-off double in the fourth.
Wedding struck out four and walked none.
"Two pitches," Wedding said with lament. "Both riseballs."
Smith praised Wedding for "crazy spin and great command of all her pitches. I haven't seen a pitcher this high school season who had spin that you could tell, that you could see it.
Most pitchers in high school you face, it's either in or out. She wasn't — you could see the ball spinning. You didn't know where it was going to end up."
The Ladycats praised Howell (15-0) for baffling them.
"Location," Ladycats coach Dawn Draper said of Howell's dominance after she struck out 17 batters and walked one.
"Her riseballs were really good," said Clark, adding that few consecutive pitches looked similar.
The game was a rematch of the 2015 state semifinal won by Champion, 6-3.
"I think we played great, we had luck in the bottom of the seventh, we just didn't pull it out," Draper said.
More like this from vindy.com