West Boulevard celebrates science with fair
---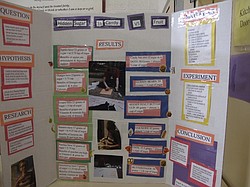 Photo
Neighbors | Zack Shively.Each of the West Boulevard students had a poster board for their science fair. THe display featured different sections of their project, including a question, a hypothesis, research, materials, the experiment, the variables, the results and their conclusion.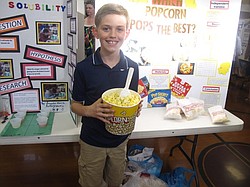 Photo
Neighbors | Zack Shively.West Boulevard Elementary School had their annual science fair in the school's gymnasium on May 17. Each fourth-grade student participated in the event, examining a question that they chose to examine. Pictured, Danny Hagerty did his project on what type of popcorn would pop the best in his microwave.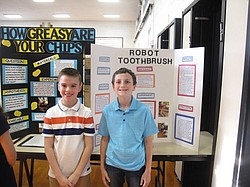 Photo
Neighbors | Zack Shively.The fourth-grade students got to choose their own research topic for the science fair. They work on the project in small pieces throughout the year. Examples of projects were a marshmallow shooter, an examination of hearing across different ages and a look at why apples go brown. Pictured are Thomas Morris and Jaxon Lipinsk in front of their projects about potato chips and a robot toothbrush.
By ZACK SHIVELY
West Boulevard Elementary had their annual science fair in the school's gymnasium on May 17.
Each of the school's fourth grade students participated in the science fair project, which they completed in small sections throughout the school year. All of the students set up displays for the projects.
"It gives the students a chance to have a hands-on idea of what science is all about," said science teacher Jen Cabuno. She enjoys that the students get to use their creativity with the project. She also likes to see the parents and grandparents see all the students' projects.
The students' presentations all included the headline of their project, the question driving their research, a hypothesis of what they believed the outcome would be, the research they did for the project, their experiment, the variable used in the experiment, the results of the experiment and conclusion they reached through the project on the display boards.
For example, student Danny Hagerty wanted to know what type of popcorn popped the best. He guessed what the answer would be. For his experiment, he popped three different brands of popcorn using the same equipment and timer setting for each one. He recorded his findings on his board and handed out popcorn as he presented at the fair.
Other experiments included a girl who tested the hearing abilities of younger and older people, a boy who made a marshmallow shooter, a student who examined why apples turn brown, another student who looked how much grease is on potato chips and many more.
The school had water and cookies for all attendees at the event. The fair ran concurrently with the school's book fair, so the families could also buy books while at the school.
More like this from vindy.com