Mahoning High grads credit staff as driving force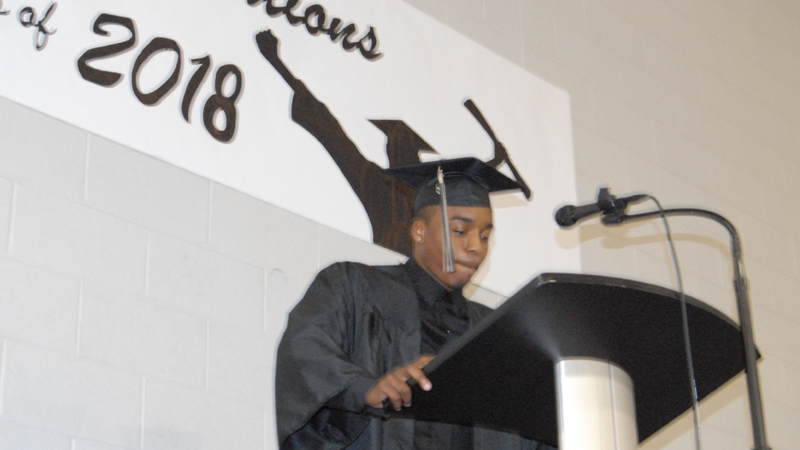 ---
By JOE GORMAN
jgorman@vindy.com
YOUNGSTOWN
Marquell Armour told his fellow graduates at Mahoning County High School to never give up.
Armour, who was the class speaker Thursday for the Class of 2018, told 46 of his classmates who received diplomas that when he first came to school, he had a lot of anger and self doubt from being moved around in foster care.
But thanks to the staff at the school who treated him as more than just another student, Armour was able to graduate and have his sights on the future – a future he thought he might never have.
"They were a family," Armour said of the staff at the school. "Not just to me, but all of my fellow classmates."
The high school, established in 2008, is a public community school that provides education for students from the county's high schools who have been suspended or expelled. The school focuses on credit-recovery, drop-out prevention and behavioral management to ensure they receive a high school diploma.
Judge Theresa Dellick of the county Juvenile Court, who helped start the school, told the students they have a lot to be proud of because they overcame a lot of adversity to get their diplomas.
"It [graduation] has happened here today because of your tenacity and your willpower," Judge Dellick told the graduates.
Former grad Lachelle Easterly, who graduated in 2012, was the guest speaker. She is 24, a mother and going to nursing school. She credited the staff with helping her to deal with anger also so she could graduate and start a future that would be good for her and her children.
"I've never been so excited to see school," Easterly said. "Every teacher told me I could do it. I thank you for making this my school."
She also commended the present graduates for their work ethic.
Judge Dellick told the graduates to make sure they stay in touch.
"We want to hear from you," Judge Dellick said.
Armour said his transformation did not happen overnight, but it was possible because of the school.
"My life literally took a second turn when I went here," Armour said.
More like this from vindy.com