Gehring uses arm, bat to get Raiders into D-III state final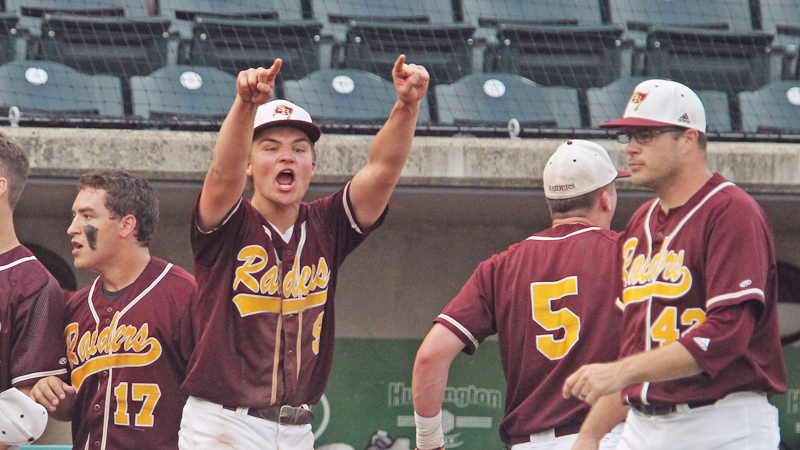 ---
South Range Baseball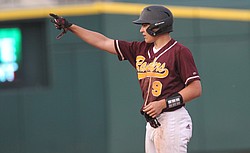 Gallery
By ERIC MAUK
sports@vindy.com
COLUMBUS
On the biggest stage of his young high school baseball career, South Range freshman pitcher Jake Gehring punched his team's ticket to the Division III Ohio High School state baseball championship game Thursday night, spinning a six-hit shutout and driving in three runs in a 7-0 win over Cincinnati Madeira at Huntington Park.
The Raiders (17-15) broke open a scoreless tie with a five-run sixth inning and capped that with a pair in the seventh to earn the school's first-ever berth in the state championship game. The Raiders will meet Coldwater at 1 p.m. Saturday for the state crown.
"This is what we have been working for all year and now we play for all the marbles on Saturday," said South Range coach Jim Hanek. "It's a testament to the kids, who have played hard, never gave up and fought through a tough game today against a tough pitcher."
The first five innings were a tense pitchers duel as Gehring and Madeira junior Tyler Sullivan matched each other through five scoreless innings. Madeira (21-7) scratched out three hits over those five innings but Gehring was equal to the task each time, stranding four Mustangs runners in scoring position.
"My catcher Jared [Bajerski] knows me best and this is what we train for all year," said Gehring (8-2), who struck out six in the win. "When things get tight you just have to trust your stuff and rely on your defense, and those guys made some big plays tonight."
The big defensive plays came at key moments for South Range, which had lost six of its last seven regular-season games before going on this tournament run. Junior Josh Stear went deep into the left-center field gap to outrun a first-inning drive off the bat of Sam Wirsing and Brycen James made two strong plays at third to keep balls in the infield as the zeroes kept piling up through five innings.
But while defense keeps the opponents off the board, the South Range offense was spending those first five frames looking for a way to solve Sullivan, who had thrown just 58 pitches heading into the sixth inning.
"It's 0-0 and we knew that [Madeira] had threatened a little more than we had to that point, and you start wondering when the bats will show up," Hanek said. "But we just stayed with what we knew how to do, put quality swings on the ball and we knew that we had the ability to string some things together."
The floodgates finally burst open in the sixth. Bajerski was finally rewarded after two hard-hit balls were turned into outs in his previous at-bats when he roped a single to left-center. James then worked his third walk of the game and Ben Rivera's infield single loaded the bases for Gehring.
"I went up there and told myself, 'Let's just have some fun,' " Gehring grinned. "I was thinking he might throw me an inside fastball. Not sure why, maybe it's because of all the baseball I've played, I don't know. But I was able to get ahead of it and drive it."
The freshman turned the pitch into a line drive down the left-field line, clearing the bases a double for a 3-0 lead. Stear then singled in pinch runner Dom Pasquale and Mike Cunningham beat the Madeira center fielder with a deep drive for a run-scoring triple to make it 5-0.
"Mikey Cunningham got a big hit, that really helped us out of the seventh spot and that's been our MO all year," Hanek said. "We have guys throughout the order that have come up with big hits for us this year and that sixth inning showed that."
But Madeira wasn't quite ready to go home yet. The Mustangs came back and loaded the bases with nobody out in their half of the sixth. Sullivan was unable to help himself as Gehring had and popped up to shortstop Brandon Youngs.
Youngs then saved his best play of the year for the next hitter.
Trey Waltz squared up a Gehring pitch that was ticketed for the gap and had the potential to clear the bases. But Youngs went high in the air to grab it, then stepped on second base to complete an unassisted double play that effectively decided the game.
"I thought it was a little lucky," Youngs said. "I felt the ball hit my glove and when I came down to the ground I immediately looked behind to see where it was. When I didn't see it right away I knew I had it and I went to tag second for the force."
South Range sealed the deal in the seventh as Bajerski singled again and stole second, Youngs singled and both runners moved up on a throwing error. With two runners in scoring position and one out, James banged a single to right field that scored both runners, giving the Raiders a 7-0 lead.
Just to make sure Madeira harbored no further thoughts of staying until Saturday, Gehring struck out the side in the seventh to close out the game.
"I can't say enough about Jake," Hanek said. "This was the biggest stage he's ever been on, the most fans, a big ballpark and to have the composure to do what he did, he made some big pitches in tough spots and I was really proud of him."
The Raiders will spend Friday in Columbus doing some team activities and perhaps a light workout, and then will prepare to face a strong Coldwater team, which dominated Minford in an 11-0 win in the other Division III semifinal Thursday.
"We've preached this all year to play things one game at a time, but days like this and like Saturday are what we have worked for," Hanek said. "We're ready. We're tested and we are going to come out and have fun on Saturday."
More like this from vindy.com