Fire Department grants birthday wish 55 years in the making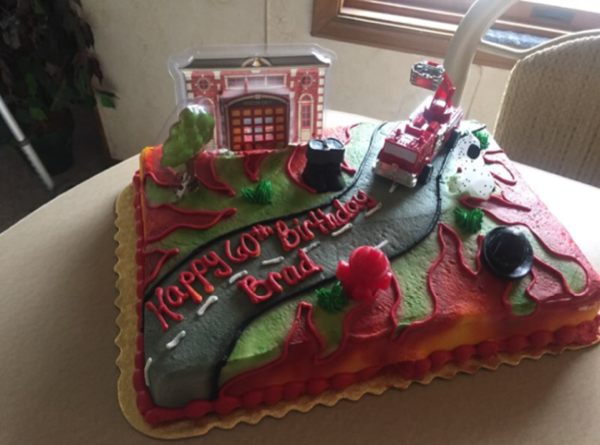 ---
By ZACK SHIVELY
An Austintown citizen got the chance to celebrate his 60th birthday as a fireman for a shift on Feb. 25.
At the age of 5, Brad Baird missed his chance to visit the Austintown fire department with the rest of his kindergarten class. He had his tonsils removed the day his class visited the department. He remembers being in the backyard when the fire truck passed his house with his classmates onboard.
"I was devastated I couldn't go," Baird recalled. He often brought the story up and said he had been a deprived little child for 55 years.
His mother, Beverly Baird, felt bad about his absence from school that day ever since. On Baird's 55th birthday, she asked his wife, Laurie Baird, to surprise him with a day at the fire department for his 60th birthday.
"It was as much for me as it was for him," said Laurie Baird. On his birthday, she told him that his gift was too big to be put in the house.
On Feb 25, she drove her husband to the number one fire department where he spent the day, from 8 a.m. until 4 p.m., as a firefighter. After the shift, the fire truck dropped him off at his house.
"I was happy to help him out and fulfill his childhood dream," said Tom O'Hara, fire captain for the number one station. He enjoyed having Baird at the station with him. "It was great to see the excitement and joy on his face ... it brings back your childhood dreams and wants."
O'Hara and the other firefighters that day talked to Baird and walked him through a normal day. They did not get any calls, so they visited the other fire stations and introduced him to the other firefighters. They showed him their equipment and explained how it works and why the use it.
"I appreciate them a heck of a lot more," said Baird after seeing what they do on a daily basis. His favorite part of the experience was being welcomed so graciously by the department and getting to be a part of their family for a day.
Laurie Baird spoke highly about the fire department and setting up the day for Brad. When he got home, the family celebrated his birthday and had a special cake from Giant Eagle made for him.
More like this from vindy.com