Celebrate Poland events announced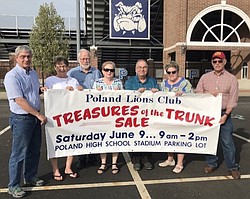 Photo
Neighbors | Submitted.The Poland Lions Club will host their Treasures of the Trunk Sale on June 9 from 9 a.m. until 2 p.m. More than 50 vendors with items including tools, childrens items, Pampered Chef, Avon, crafters, jewelery, Kolachi Tupperware, household items, furniture and more will be there. Pictured are President Dave Rudawsky, Monica Maholtz, Chuck Maholtz, Lorry Gentile, Jerry Gentile, Loretta Esasky and Paul Young.
The 12th annual Celebrate Poland event will take place on June 29 and 30, which will celebrate Independence Day and the community of Poland, Ohio.
The event starts on June 29 at 5:30 p.m. with the annual Strawberry Festival at Poland Presbyterian Church, located at 2 Poland Manor, followed by the Firemen's Parade at 7 p.m. Following the parade, at 7:45 p.m., will be a performance by the popular Cleveland area retro band, Disco Inferno. The band plays favorites from the disco era. Go dressed in your best 80's attire for a costume contest.
The festivities continue on June 30. The day includes several events such as an arts and craft show, Poland Idol Singing Contest (for all ages), run through history, Chalk the Walks (sidewalk chalk art), bounce arounds, free family games and activities such as pony rides, Amazon Eric Reptiles and a petting zoo, historic walking tours, strawberry pie baking contest, a DJ in the late afternoon, a fireworks display at 10 p.m. by American Fireworks and more.
New this year is the opportunity for your business or household to sponsor or co-sponsor one of those events, including the Disco Inferno band. Signage will indicate who the sponsor is at each event.
Food vendors will be set up behind Village Hall during all of the Friday and Saturday events. A free WRTA shuttle will run from the Poland Methodist Church to Village Hall on Saturday from 12-4 p.m. Also, school buses will run, free of charge, from Poland Seminary High School and the Poland Methodist Church from 6:30-11p.m. on Saturday night.
While the parade, fireworks and the strawberry festival have long been a part of the Celebrate Poland event, the committee works hard to bring two days full of fun activities for the whole family, adding new activities each year.
Celebrate Poland is an all volunteer event, with all costs covered by donations from the community. The Celebrate Poland committee is comprised of local interested citizens and volunteer help from Poland churches, primarily New Life Church, Poland Village Baptist Church and Prince of Peace Lutheran Church.
Also new this year, the website - celebratepolandohio.com - will offer a PayPal link to enable the public to make donations online.
For more information, contact Cindy Best at cmbdrb@aol.com, at Celebrate Poland on Facebook or at celebratepolandohio.com.
More like this from vindy.com