Campbell's 84 grads earn $758K in scholarships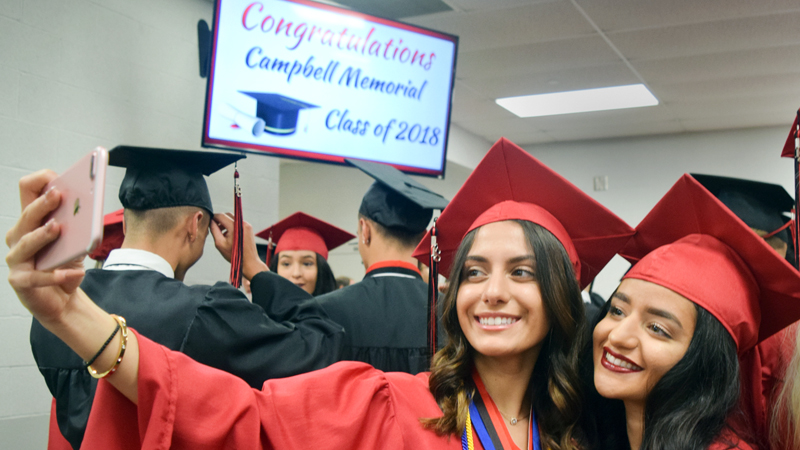 ---
By SAMANTHA PHILLIPS
sphillips@vindy.com
CAMPBELL
The cheers of proud families echoed through Campbell Memorial High School Thursday as their loved ones, in black and red gowns and mortar boards, streamed into the gymnasium for the Class of 2018 commencement.
The 84 graduates won a total of $758,000 in scholarships.
There are five valedictorians: Glenn Germaney, John Levendis, Caylee Michaels, Antoni Tiliakos and Nomiki Zembillas. Each earned a perfect 4.0 grade point average. The salutatorians are Michael Copanic and Madeline Rosile.
Michaels, class president, offered some words of advice during her speech.
First, never give up, despite the obstacles that lay ahead.
Second, give 110 percent in everything, whether the graduates attend college, learn a trade, travel the world or become an athlete.
The commencement guest speaker this year was Michael Pikos, who graduated from Campbell with the Class of 1968. He is now an oral and maxillofacial surgeon and the chief executive officer for Coastal Jaw Surgery and the Pikos Implant Institute in Trinity, Fla.
Pikos shared several lessons he learned from his father, who grew up during the Great Depression and dropped out in middle school to start working.
Among those lessons is to be patient in a world that demands instant gratification.
He also told students to have a strong work ethic, never stop learning and learn from failure.
"Stay focused, avoid distractions and adopt an attitude of gratitude," he advised.
It's time for the graduates to go their separate ways as they pursue their career goals. Among the valedictorians, Germaney will study computer science at Youngstown State University, Levendis will study chemical engineering at Toledo University and was accepted into the Honors College, Michaels will study nursing at YSU, Tiliakos was accepted into the BaccMed program at YSU and Zembillas will study civil engineering at YSU.
More like this from vindy.com