Autism Society of Mahoning Valley has run and walk fundraiser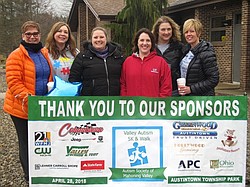 Photo
Neighbors | Zack Shively.The Autism Society of the Mahoning Valley had their fifth annual 5K run and third annual Fun Walk at Austintown Township Park on April 28. The event raised money for the organization and featured a petting zoo, photo area and a number of tables for information on other helpful organizations in the area. Pictured are, from left, boardmembers Aundrea Heschmeyer, Tracey Marciano, Shannon Jursa, Robin Suzelis, Dee McFarland and Amy Shope.
By ZACK SHIVELY
The Autism Society of Mahoning Valley had their annual Valley Autism 5K and Family Fun Walk on April 28 at Austintown Township Park.
The organization has had the 5k for five years and the fun walk for three years. Runners of the 5K went by themselves at nine. The fun walk had families and groups walking in support of a person with autism in the lives. These teams often wore matching outfits and walked with a flag.
"We wanted to provide an increased awareness of needs of the autism community," said Robin Suzelis, board president of the group. She said that the group consists of all volunteers from the community, many with children with autism, such as her two children.
The 5K and fun walk is the organization's largest fundraiser during the year. The teams get help from friends and family to raise money for donations at the event. They made $15,000 last year and looked to surpass it this year, despite cold weather and rain. The event and amount of donations grow every year.
Most of the money raised at the event will go toward the group's Camp F.R.I.E.N.D. (finding rewards in every day). The camp gives children on the autism spectrum an opportunity to have a summer day camp like their peers. The camp features a trained staff of special education teachers and behavior therapist to help meet the needs of the children.
The event included a tent for runners and walkers to stay warm while outside and a range of community outreach programs inside the Stacey Pavilion. They also had pony rides and a petting zoo outside and a photo area inside.
More like this from vindy.com