Solar cooking impresses students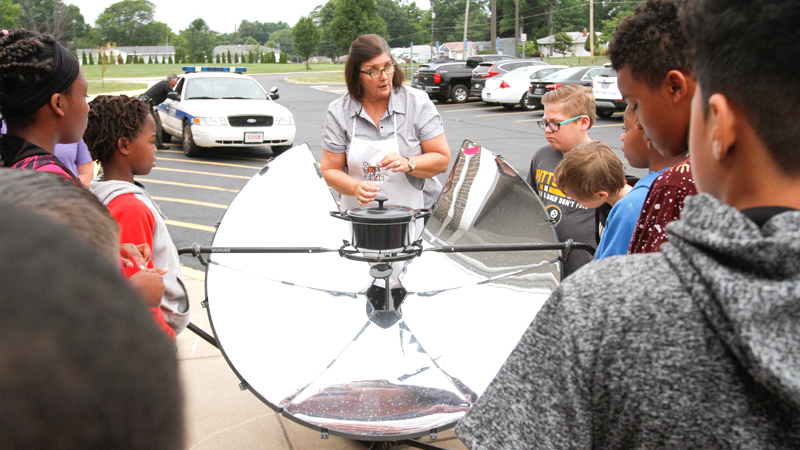 ---
By AMANDA TONOLI
atonoli@vindy.com
YOUNGSTOWN
Students learned about
their carbon footprints during a Solar Sisters show Monday as part of the Youngstown City Schools kindergarten through eighth-grade Summer School Academic and Enrichment program.
Paul C. Bunn Elementary summer school students got to learn about solar power – specifically solar cooking – from The Solar Sisters.
Jennifer Gasser and Mary Buchenic of Hubbard are The Solar Sisters. They visit schools, clubs and events demonstrating solar cooking.
Solar cooking, which dates back 250 years, uses concentrated sunlight as the fuel source and cooks by capturing extra light, converting it to heat and trapping it in the cook space. Various solar cookers can be used to fry, boil, bake or slow cook. Its benefits are both environmental and economic.
The Solar Sisters' mission is promoting solar cookers as tools for education, wellness, economic empowerment and ecosystem recovery.
Gasser said she loves having students understand alternative cooking.
"Solar cooking is so wonderful and by teaching them about these alternative methods, we can help [students] identify their world view and their carbon footprints. By using the free energy of the sun, this is how we can do better for the earth."
Students got to feel the heat given off by different solar sources.
"It's cool," said 11-year-old Shawna Senay about experiencing heat energy through a parabolic oven, evacuated tube oven, box oven and panel oven.
When asked why it was so cool, Makenna Dunlap, 11, said because of the cost.
"Because you don't need to pay and it's saving the world from some of the carbon footprint you would leave otherwise," she said.
Another connection The Solar Sisters made is to other countries.
Students signed solar panels the group is taking to Haiti to help provide students with clean energy.
"It's important for [students] to be able to make connections to other countries and to be grateful for what they have," said Courtney Angelo, fourth-grade teacher. "It's a good lesson learned for them."
Gasser and Buchenic have conducted solar-oven demonstrations and programs at several Mahoning Valley events including the Hubbard Farmers Market and at Mill Creek MetroParks' Fellows Riverside Gardens in Youngstown.
But they've taken it global too, visiting Portugal, Pakistan and Haiti.
The Solar Sisters are part of Global Development Solutions, a nonprofit charitable organization.
More like this from vindy.com