Honor humbles 2018 Distinguished Physician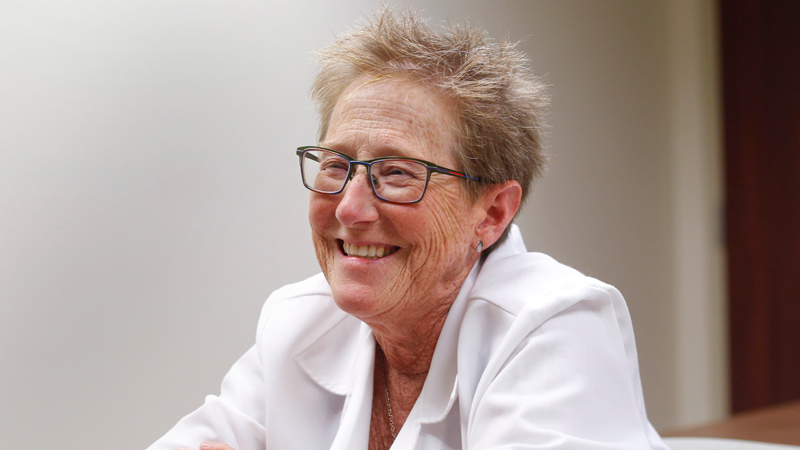 ---
WILLIAM K. ALCORN
alcorn@vindy.com
YOUNGSTOWN
Dr. Joni Canby, D.O., recently named 2018 Distinguished Physician by the Mahoning Valley Medical Society, was advised by her high school guidance counselor not to pursue a career in medicine, something she had wanted to do since she was a child.
Today at 60, Dr. Canby of Poland holds board certifications in obstetrics and gynecology and family practice and owns and operates Progressive Women's Care, one of the largest OB/GYN practices in Northeast Ohio. She's delivered thousands of babies.
"I don't think my counselor thought I was smart enough to be a doctor," she said with a smile.
A West Virginia farm girl, she flirted with the idea of becoming a veterinarian during her first few years in college, but now satisfies her love of animals by having two Labradoodles as pets and owning and personally showing Saddlebred horses regionally.
One of Dr. Canby's Saddlebreds, A Riot on Forty-Third Street, or "Riot" for short, was seventh in his class at the Louisville World Championships last year and has won the Western Country Pleasure Class three years running at the American Saddlebred Horses Show in Lexington, Ky., one of the top American Saddlebred shows in the nation.
Born in Martinsburg, W.Va., Dr. Canby attended the West Virginia School of Osteopathic Medicine in Lewisburg, W.Va., where she graduated in 1980 with a medical degree. She completed her osteopathic rotating internship and residency in family practice at Parkview Hospital in Toledo in 1986 and then completed a residency in OB/GYN in 1986 to 1990 at York, Pa.
During her rotations, she said she kept passing out in the operating room, ruling out surgery as a specialty. She also realized she wasn't crazy about family-practice medicine. But she soon developed a love for obstetrics and gynecology.
"Despite having many high-risk patients, it is almost always a happy time," she explained.
Dr. Canby came to Youngstown and the Youngstown Osteopathic Hospital on Aug. 1, 1990. She went into private practice under the name of Jodi Inc. for about 10 years and for about the last 15 years has owned and operated Progressive Women's Care, which has offices at 7600 Southern Blvd., Suite 1, Boardman, and at Northside Regional Medical Center, 500 Gypsy Lane, Building B, 3rd Floor, Youngstown.
In addition to working 50 hours a week in her practice, Dr. Canby is an assistant professor of obstetrics and gynecology at Heritage College of Osteopathic Medicine at Ohio University, and was named 2011 Mentor of the Year by the Ohio Osteopathic Association.
According to the Mahoning Valley Medical Society, in presenting the Distinguished Physician award to Dr. Canby during the medical society's annual meeting at The Lake Club in Poland, Dr. Ayan Sanyal, a colleague and friend, said: "It wasn't until I worked with you side-by-side that I was able to see how special and vital providing OB/GYN care can be."
"I've seen you share in the joy of your patients when they see their child's face for the first time, and I've seen you comfort those who received news that they weren't expecting. You've shown me and so many physicians here what it means to be kind, compassionate and to share with others your love of what you do," Dr. Sanyal said.
Dr. Canby, who was joined at the award ceremony by coworkers, colleagues and residents from Northside Regional Medical Center Family Medicine Residency, said she was "shocked and very humbled" to be named 2018 Distinguished Physician.
More like this from vindy.com