Food, culture attract throngs to Serbian picnic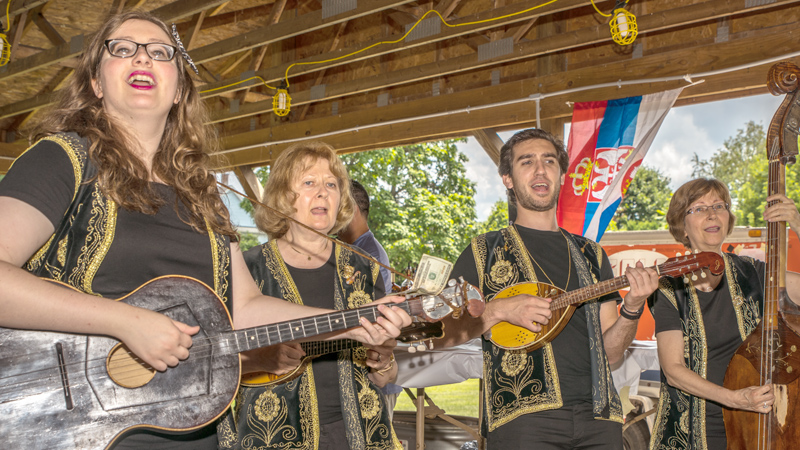 ---
By WILLIAM K. ALCORN
alcorn@vindy.com
YOUNGSTOWN
Family, food, friends and preserving traditions and culture are what the annual Holy Trinity Serbian Orthodox Church picnic is all about.
And the 86th-consecutive version of the celebration Sunday met all those requirements.
The picnic is a gathering to keep the culture going and share traditional food and music with one another and the community, said Mike Andjelkovich, event chairman.
It also earns money for the church, which was built in 1928 by volunteers from the congregation, said the Rev. Bosko Stojanovic, priest of the church at 39 Laird St. for about 21⁄2 years.
"The men worked in the mill, and during their off hours worked on the church. The architect was the father of former Ohio Gov. George Voinovich," said
Father Stojanovic.
In keeping with preserving the culture theme, Sunday's event revived Kolo dancing, a circle dance group in which participants hold hands and perform certain steps.
The new group that performed Sunday, consisting of 22 boys and girls from age 4 to 15, is named Avala after one of the hills that surround Belgrade, Yugoslavia, said Father Stojanovic.
Lauren and Velibor Drobnjak of Cleveland had reasons besides the food for attending the picnic with their children Nikolas, 8, Sofija, 11, and Mija, 14.
Velibor plays accordion in the band that entertained, and it is a chance to visit his parents, Nikola and Mandica Drobnjak, who attend Holy Trinity Church.
"We come to Serbian Day every year," said Lauren.
Another Cleveland-based group with strong ties to the church attended Sunday's festivities.
Spokesman for the group was Alex Machaskee, retired chief executive officer, president and publisher of the Cleveland Plain Dealer newspaper.
"I was an altar boy in this church," Machaskee said of Holy Trinity Serbian Orthodox.
Machaskee lived in Warren as a youth, graduating from West Junior High School and then Warren G. Harding High School in 1955, and started his newspaper career in the Warren Tribune Chronicle's sports department. He went to the Plain Dealer in 1960 from which he retired in 2006.
"This church is the roots for my family, many of whom are here today. I'm Serbian," he said.
The pavilion in which the music and dancing took place is named in honor of his parents, George and Martha Machaskee.
"I grew up in Warren, but I took the bus and train to Youngstown on Saturdays to attend Bible and culture classes," he r
More like this from vindy.com