Canfield downs neighbors in softball victory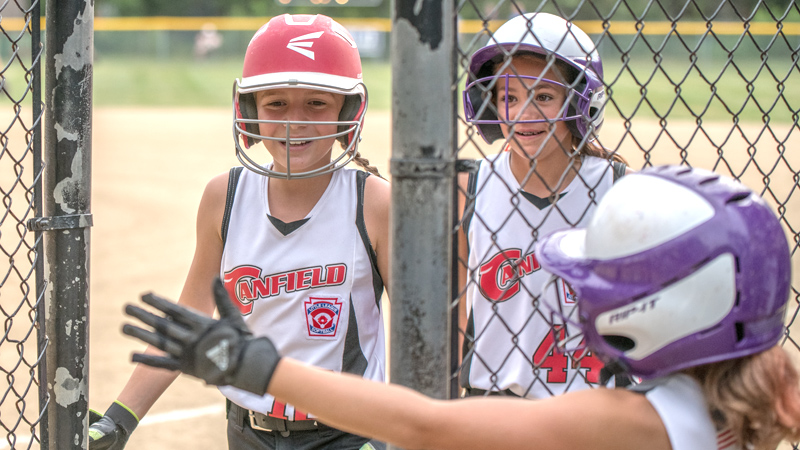 ---
By BOB ETTINGER
sports@vindy.com
TALLMADGE
Leah Figueroa knew she hadn't performed well against Austintown pitcher Kali Ray. That didn't keep her from talking herself into hitting the ball in her first at-bat Monday against Ray.
Figueroa delivered a two-run single to break the game open as Canfield rolled to an 18-4 victory in the Little League Softball 9-10 state tournament at Stein Field.
"I usually don't hit off of her," Figueroa said. "I was nervous. Inside my head, I said I was going to get a hit. I hit it and I got happy. I was focused."
At 3-0, Canfield is the winners bracket champions and will play for the championship of the double-elimination tournament on Thursday at 4 p.m. at Indian Hills Field.
Austintown (2-1) drops to the losers bracket and will play Wednesday at 6 p.m. at Indian Hills Field. The opponent will be determined today.
Canfield's opponent will be the winner of Wednesday's game.
Figueroa's single in the top half of the fourth scored Ava Milligan and Alexis Johnson to put Canfield up, 4-0.
"That was a critical at-bat," Canfield manager John Millich said. "The score was close and that opened up our offense."
That double followed a third inning in which Austintown loaded the bases with one out and failed to push a run across.
"To have bases loaded and not score was the turning point for us," Austintown manager Rich Oswald said. "After that, we had a few errors and that was it.
"We've played them close many times," Oswald said. "They just got us good this time. To have the bases loaded and not score killed us."
As the dust settled, Figueroa had a pair of hits and reached on an error in driving in five runs. She also scored twice in leading a Canfield offense that produced 15 hits.
"[After the first hit,] I was going to hit off her," Figueroa said. "I felt relaxed."
Kyleigh Golden had three hits including a double and drove in two, Sofia Castronova doubled twice and drove in four while Brooke Opalick had two hits and two RBIs and successfully sacrificed twice. Riley Billak chipped in with a double and two RBIs off the bench.
"They were patient," Millich said. "They waited for a good pitch and took advantage when it came."
Canfield scored two in the first, two in the fourth, five in the fifth and nine in the sixth.
"I've been proud of them," Mllich said. "Every week, they back and hammer the ball. Every girl in the lineup can hit the ball hard."
Golden started in the circle for Canfield and struck out 10 over four innings of no-hit softball. She allowed a single unearned run.
"She's a heck of a pitcher," Oswald said. "That's the way she's pitched every time we've played them."
Lily Stevens broke up the no-hitter with a single in the Austintown half of the fifth to start a three-run rally.
More like this from vindy.com