Valley native will screen film about Youngstown in Hollywood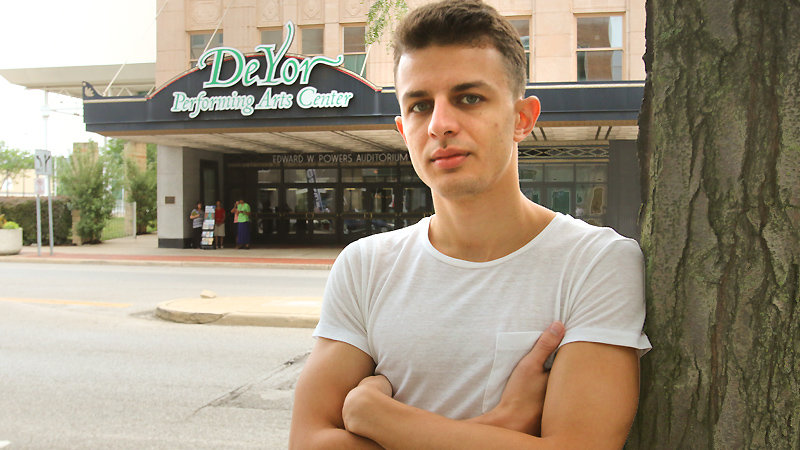 ---
YOUNGSTOWN
Hollywood will get a taste of Youngstown when Mahoning Valley native Patrick Naples, 26, screens his film at the Complex Theater on Nov. 4.
The film, "Youngstown Metropolitan," features Youngstown actors and was partially filmed downtown and on the Youngstown State University campus.
The film originally premiered last September at the Youngstown Cinema on West Federal Street.
Since then, it was shown at the Anthology Film Archives in New York and at a LGBT film festival in Philadelphia. Naples is working on setting up a screening event in Chicago, where he lives.
"The film is about a megalomaniac who goes on an ego trip while he's making a movie based on his life," Naples said. "It's very loosely based off my own experiences in Youngstown when I was younger."
Naples produced, directed, and plays the lead character, Nathan Sanders, in "Youngstown Metropolitan."
He describes the character as an eccentric provocateur with a huge ego.
"It's a very manipulative character, I play an anti-hero," he said. "I didn't want to play a goody-two-shoes character because I knew at that time I wasn't really a good person. I wanted to be honest."
The film was co-produced by his friends Deanna Durse and Bill Burrows, who also play Nathan Sanders' old friends.
Durse said she enjoyed working with Naples and Burrows, her childhood friends. Working with Naples could be intense at times, she said.
"Despite that, I feel like it brought us closer together," she said. "I really fell in love with filming and the whole craft."
Naples, originally from Lowellville and a Youngstown State University graduate, began writing the script when he was 19. He said writing the script was a way for him to get through some turbulent times in his life.
"When you are in that state of mind, it's easy to write," he said, noting he would stay up until 4 a.m. working on it.
Naples said he would talk to Durse and Burrows about their lives, and with their permission he used some of their conversations as inspiration for his script.
"For example, there was a fight between Deanna and her friend, and I used some dialogue word for word ... in a fight between two characters, which was the best scene in the film, hands down," he said. "It was raw."
The film was shot throughout the span of a year, because Naples wanted each season to reflect a different mood for his character.
Naples always wanted to be a director and fell in love with cinematography when he watched "Pulp Fiction" when he was younger. He loved how Quentin Tarantino used different angles to tell the story.
Now Naples is working on another film, this one with horror elements, that is set in Chicago.
Naples said "Youngstown Metropolitan" is about ambition being used in a negative way, but in the next film, his character will use his ambition for good.
His advice to others who want to pursue filmmaking is: "Be persistent and have a one-track mind. If you have a vision, go for it. Don't listen to the negative people."
More like this from vindy.com