Warriors promote value of great outdoors to youth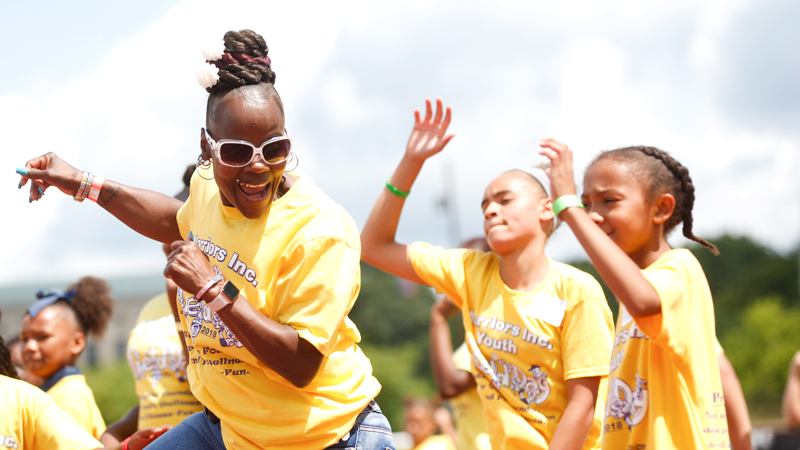 ---
By Sean Barron
YOUNGSTOWN
For many young people, spending large amounts of time outdoors instead of on technological devices may seem like a relic of a bygone era. But it's anything but old-school for Natasha Daniels and her husband, Tillman Douglas III.
"I would go outside at 9 in the morning and not come in the house until 9 at night," the Brookfield woman recalled.
Suffice it to say that Daniels and Douglas, who also loves the outdoors, have gone the extra mile to impart such an example on their two children, Liam Douglas, 2, and Tillman Douglas IV, 6. That was evident when they joined dozens of other families for Saturday's first Youth Field Day at Youngstown State University's Covelli Sports Complex on Fifth Avenue.
Sponsoring the four-hour gathering was Warriors Inc., a Christian- and community-based organization dedicated to developing young people via numerous social and economic programs.
An underlying thrust of the event was to encourage children and adults to further appreciate the benefits of staying active largely through exercise, in the context of making fitness feel more like fun and less like a chore or an obligation, explained Tammy Hale, family liaison and event coordinator.
The Field Day's theme, "Setting the foundation for youth wellness and fitness fun," was based on Proverbs 22:6, which in essence advises parents to instill the right examples in their children, who will then internalize them and follow those ways as adults.
You could say that Tillman and his younger brother followed their parents' example at the event. Tillman took part in kickball, a beanbag toss and other activities, said Douglas, who also pointed to the importance of maintaining a balance between spending time using technological devices and staying fit.
"Most kids are glued to the TV and don't get outside skills," Douglas observed. "I hope kids will get the feel for actually doing stuff and not be dormant vessels sucking in entertainment from TV or a smartphone."
Partaking of outdoor activities also has the benefit of stimulating young people's imaginations in ways being on an iPhone or similar device can't, added Daniels and Douglas, whose two sons attend Eagle's Christian Preschool & Child Care in Youngstown, which is affiliated with Warriors Inc.
Offerings for children at the gathering included kicking a can into a trash can or net, using large bounce balls and taking part in sack races, while many of the adults ran in a relay race. In addition, activities for both groups were provided, such as a Zumba class, courtesy of instructor Kelley Frazier.
Among the many participants of all ages and skill levels who took part in the intense aerobic workout to dance music were Michelle Smith of Canfield, an Eagle's Christian Preschool teacher, and her sons, Ben, 6, and Kaden, 9.
The two brothers listed wrestling and playing soccer, T-ball and flag football as their favorite forms of exercise.
"I liked the second song," said an excited Kaden, referring to a fast dance tune with which he seemed to maintain impeccable timing and synchronicity.
Like many parents a generation or two ago, Michelle Smith tries to get her children to consistently play outdoors and has fostered in them the importance of staying in shape, she said, adding this was her first Zumba class.
Making it more challenging for many people to avoid becoming overweight is that some restaurants offer much larger portions of high-calorie foods than was the case in the past, a situation the food industry enables, Frazier said. Further exacerbating the problem, especially in many urban areas, is a lack of full-service grocery stores that offer healthful choices, which makes it more likely many people will resort to higher quantities of junk and fast food, she continued.
"We have to work as a community to enforce healthy habits," Frazier said.
Also offered at the event were fruits, vegetables, nuts and other healthful foods, along with an array of information on topics such as delivering healthy babies and quitting smoking.
More like this from vindy.com