Locals capture COLT crown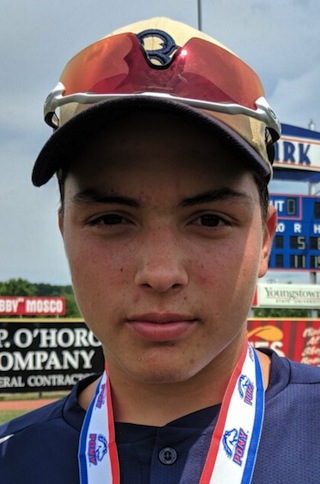 Photo

Photo
By Greg Gulas
sports@vindy.com
STRUTHERS
Rocco Bernadina worked four strong innings to help pace the Youngstown All-Stars to an 11-5 victory over the Stallions to capture the COLT-15 East Zone championship Sunday at Bob Cene Park.
Bernadina scattered six hits and struck out five. He also had two hits one RBI and one run scored.
Youngstown finished the tournament 3-0, defeating the Stallions twice. Saturday, Youngstown defeated the Stallions, 6-3.
In the tournament, Youngstown outscored its opponents, 21-11.
"I play every game the same way and that's hard, like the rest of the team today," Bernadina said. "Whether it's bunting or hitting away, I just try to take advantage of what the opposition will give me and go after it.
"I relied a lot on my sinker and while my fast ball was alright, I left my curve up a couple of times. All three pitches did what I needed them to do."
Jared Mindek added three hits and four RBIs while Trevor Strohmeyer contributed two hits, two RBIs and three runs scored. Mike Galterio had two singles and scored twice.
"Our mindset was to try to win it all in one game, simply because anything can happen if you go to a second game," manager Britt Taylor said. "We hit the ball well today and quite frankly, the entire tournament.
"We executed offensively, turned singles into doubles and hustled, also playing with a lot of intensity."
Youngstown opened a 4-0 lead in its at-bat, scoring on singles by Strohmeyer and Mindek, a free pass to Bernadina and a wild pitch by Stallions starter Vince Kopp that eventually scored Bernadina.
"Our Class B season and the competition that we played really helped prepare us for this tournament," Strohmeyer said. "Everyone had a great attitude, we meshed as a team and it feels really good right now to represent Youngstown as COLT champions."
The Stallions got a run back in the second inning when Jimmy DeJongh's single plated Nolan Wagner.
But Youngstown made it a 5-1 game when a Cam Hollobaugh single brought home Jeremy Kreuzwieser.
In the third inning, the Stallions cut the margin to 5-3 when Tyler Morgan's sacrifice fly scored Ben Lien and Matt Stroemple singled home Logan Tierney.
Youngstown responded with a two-run double by Mindek that brought home Konnor Learn and Strohmeyer.
"I was thinking fastball and was able to turn on it," Mindek said. "We beat them yesterday and just kept the momentum going right from the start."
Youngstown continued its scoring ways in the fourth inning, adding a run for an 8-3 margin after Sully Brown's single brought home Galterio. Galterio had led off the inning with his second base hit.
An infield error by Youngstown allowed Tierney to score to cut the deficit to 8-4, but Youngstown stretched the lead back to five runs after Shane Cato doubled with one away, then raced home when Nick Osborne followed with a hit.
Youngstown made it 11-4 in the sixth inning, adding two more runs on singles by Mindek and Strohmeyer.
The Stallions closed the scoring in the seventh inning on an RBI single by Morgan.
More like this from vindy.com