Boardman stays alive with walk-off victory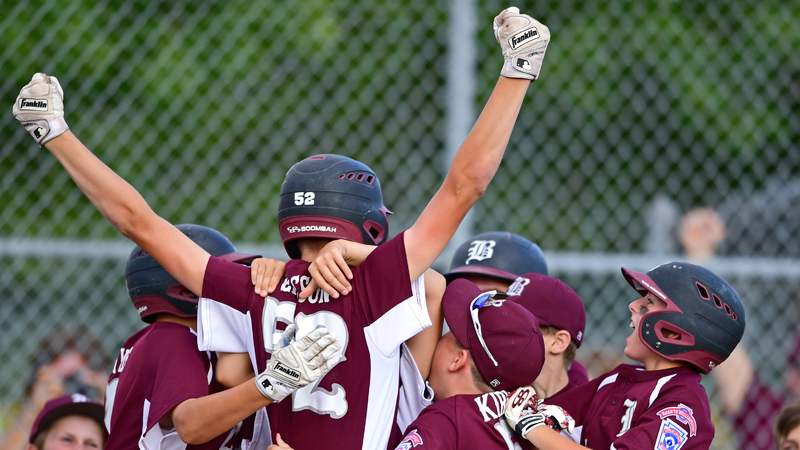 ---
Pinch-hitter Kirlik's RBI single gives
Boardman chance to win state title
By Brian Dzenis
NORTH CANTON
Tyler Kirlik is one of the youngest players in Boardman's 12-U all-star team, but he proved he can be trusted in a clutch situation.
The pinch-hitter showed remarkable patience in delivering a walk-off hit in Boardman's 5-4 victory against Hamilton in the 12-U state semifinals on Friday at the Hoover Community Recreation Complex.
"It's just amazing being 10 years old and playing on a 12-U team," Kirlik said. "It's amazing."
Kirlik came to the plate in the bottom of the sixth in what looked like a hitter's dream: the bases were loaded with no outs. He showed no eagerness to swing the bat, taking pitch after pitch until he was at a full count. At 3-2, he gave the ball just enough contact to escape the infield into right field and score Dylan Barrett for the win.
"I was looking for just a strike and he gave to me," Kirlik said. "I got the base hit to score the winning run."
Kirlik typically comes of the bench for Boardman as a hitter, with that trademark patience standing out for coach Robert Hyde.
"Tyler is a hitter and surprisingly, he's an actual 10-year old. We brought him onto this team for a special role — to come in and hit in situations just like that," Hyde said. "He's done it a few times in our district and state tournaments here.
"It's what we asked of him and he's doing it."
Kirlik wasn't the only Boardman player called to perform on the spot. The benefits of an 18-0, two-and-a-half inning quarterfinal win against Ironton on Tuesday paid dividends on Friday. Anthony Triveri, the starter in the Tuesday game, was available Friday. He replaced starter Jack Ericson in the third inning, inheriting a 2-1 deficit and runners at first and third.
"I just wanted to pitch a good game," Triveri said. "I wanted to keep us in it."
He did just that. Hamilton's Noah Prewitt scored from third as Ethan Stone grounded into a double play, but Triveri was solid the rest of the game. He give up just one more run on two hits and struck out three with no walks.
Triveri kicked off the Boardman rally in the fourth inning when he singled shallow toward right field. Hamilton's first baseman attempted to throw out Evan Sweder at third, but the ball sailed to the fence and Sweder scored. In the fifth, Ericson hit a two-run, inside-the-park home run, with the ball bouncing right on the third-base foul line and Ericson beating the throw to home plate.
"We were behind and we just started hitting the ball again," Triveri said. "We got people on base and we just started to get really up."
Hamilton's Nick Brosius came home as Zander Arnold grounded out in the top of the sixth. In the bottom of that inning, Barrett singled, then Marty Stachowicz laid down a bunt that went for a single and Barrett reached third on an error. Prewitt intentionally walked Ryan Conti to set Kirlik up for the winning hit.
Boardman will get a rematch with New Albany — which beat Boardman 3-1 on Thursday — today. Boardman needs to win two games to win the state championship and advance to the Little League regional tournament in Indianapolis.
More like this from vindy.com