Video of woman being assaulted in Warren store sends attacker to jail
By Ed Runyan
WARREN
Warren Convenience Store Beating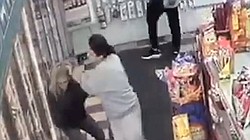 Video
: A woman was sentenced to five months in jail for a misdemeanor assault captured on surveillance video at a Warren convenience store. The woman was initially charged with a felony for using a baseball bat, but police said the video did not show use of a bat, so the woman's charges were reduced to a misdemeanor.
Jessica M. Oracio, 28, captured on store surveillance video punching, kicking and kneeing a Niles woman about 40 times, leaving the victim's face and head swollen, is serving 150 days in the Trumbull County jail.
The video shows Oracio chasing the victim into the store and viciously attacking her just inside the door. Oracio delivered roughly 20 blows in about 15 seconds. The victim tried to cover up and didn't fight back.
The victim got up and moved toward a cooler, but Oracio followed her, hitting and kneeing her and pushing her head against the cooler until the victim fell to the floor again.
Oracio walked away after that 20-second barrage but returned two more times to continue the 2 p.m. attack while a male stood nearby, apparently encouraging the attack. The different segments lasted about three minutes.
The April 16 video came from the Big Apple Supermarket on Youngstown Road. The male in the video is Vaughn M. Small, 29, of Colonial Drive in Liberty. The 36-year-old victim told police Small had a gun during the attack, which she thought prevented two store employees from stopping it.
Because the victim also described Oracio as hitting her in the back of her head with a baseball bat and stealing her purse, Oracio was originally charged with aggravated robbery, and Small was initially charged with complicity to aggravated robbery.
Both are felonies capable of producing a long prison sentence.
But charges against both were reduced to misdemeanors because investigators had no video evidence of the victim being hit with a bat or showing Small with a gun, said Wayne Mackey, a Warren police detective.
The video, which has no audio, shows Small with his hand in his jacket pocket during much of the assault.
The Vindicator requested the video in April but received a copy last week.
Oracio, who has addresses on Glenwood Avenue in Youngstown and Fifth Street Southwest in Warren, entered a no-contest plea and was convicted of misdemeanor assault in Warren Municipal Court on May 1. Judge Thomas Gysegem sentenced her to 150 days in the county jail, where she has been since May 8. Oracio is scheduled for release Oct. 5.
Small's charge was reduced to misdemeanor disorderly conduct. He was found guilty and placed on one year of probation, according to court records.
Oracio's attorney, Andrew Rauzan, filed a motion June 11 asking Judge Gysgem to modify Oracio's sentence and set her free, but the judge refused.
The victim suffered no lasting or serious injuries in the beating, Mackey said.