Ribbon cut on $8.5M firing range at YARS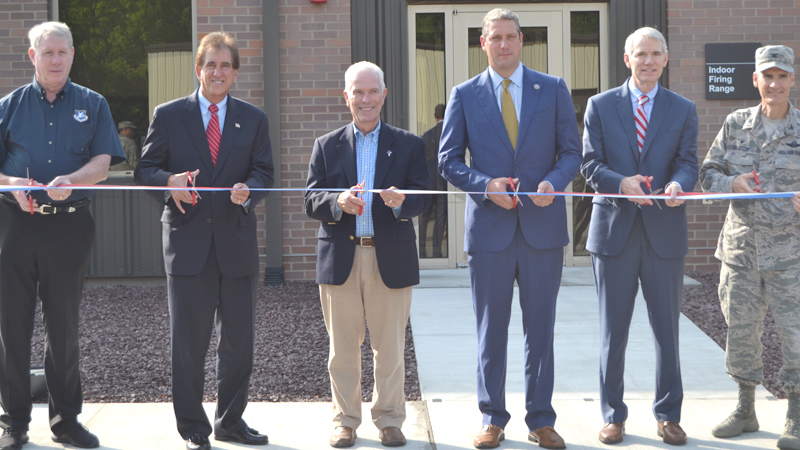 ---
By Jordan Cohen
VIENNA
The new Combat Arms Training Management Firing Range at the Youngstown Air Reserve Station is more than a firing range.
Local officeholders and the military describe the $8.5 million facility as a vital component for ensuring the airbase's long-term future.
The opening was important enough to attract a U.S. senator, three area congressmen and scores of local political officeholders.
U.S. Sen. Rob Portman R-Cincinnati; U.S. Rep. Tim Ryan of Howland, D-13th; U.S. Rep. Bill Johnson of Marietta, D-6th; and U.S. Rep. Jim Renacci of Wadsworth, R-16th, took part in the ceremonial ribbon-cutting outside the facility Friday.
"This base is stronger because of community involvement," Portman said. "[That's why] we keep pumping money in here."
The firing range is described as the height of technological sophistication. Bullets fired at targets will be absorbed without the risk of fragments that might endanger anyone on the range.
In addition, a filtration system will draw smoke from the firing weapons down range. The range can accommodate everything from pistols to high-caliber weapons.
"I've never seen this kind of technology," Johnson said.
Ryan said the range exemplifies "the intellectual future of the military … tying the base to other important initiatives."
He cited America Makes housed at the Youngstown Business Incubator in Youngstown and the role of 3D printing capable of creating component parts for the military regardless of location.
"There is intellectual firepower in our community," Ryan said.
The Mahoning Valley's law enforcement will also benefit from the firing range. Col. Dan Sarachene, 910th Airlift Wing commander, said YARS will negotiate agreements with police agencies to use the facility for training.
"Sharing the range is part of our community partnership plan," Sarachene said.
Another major need for YARS is a new gate entrance. Portman said the current entrance is "too close to the road" and fails to meet anti-terrorism standards. The senator indicated funding legislation has begun for the project.
"There is less likelihood of [YARS] being on the list of bases to be shut down," Portman said. "The future of the base is strong right now."
More like this from vindy.com