Eating competition raises money for OH WOW!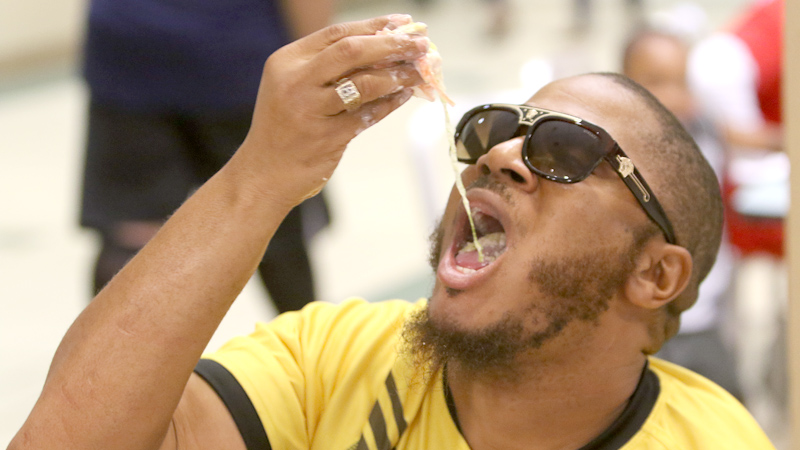 ---
YOUNGSTOWN
Twenty minutes and 4 pounds of food later, Demetrius Clark of Youngstown emerged the victor of Thursday's Pizza Joe's Big Joe Wedgie Challenge.
The eating challenge – a competition to see who can finish a 4-pound Pizza Joe's wedgie in under a half-hour – benefitted OH WOW! The Roger & Gloria Jones Children's Center for Science & Technology downtown, and took place at the Pizza Joe's in the food court of 20 Federal Place.
The event raised about $400.
Pizza Joe's menu describes its Wedgie as a "10-inch round pizza shell baked and folded into a delicious sandwich."
Contestants paid a $20 entry fee which went to OH WOW! center. Anyone who completed the challenge was given a T-shirt, a pair of Pizza Joe's boxers and half their entry fee back.
Katie DeToro, who coordinated the event for Pizza Joe's, said it will continue through the end of the month and that those interested in participating can do so at any Pizza Joe's location.
Six contestants participated in the challenge at the food court Thursday, cheered on by a small crowd of onlookers.
Ralph Urbach, an educator and facilitator at OH WOW! center and the group's representative participant at the event, was the second contestant out of the challenge.
"Mine was made with a lot of love," Urbach said. "I think maybe a little too much love; I think that's what did me in."
Urbach said regardless of how stuffing himself with dough and toppings made him feel, it was worth it for the children.
"Any event that brings people together with the purpose of supporting children is worth it to me," Urbach said. "Any price for the kids."
Clark, the only one to finish his wedgie in the 20-minute window, said he hadn't even heard of the event until just before it was going to begin.
"I just walked up and saw it and decided to join," he said. "I'm happy it's going toward the kids. I had no idea what it was for until I had entered."
More like this from vindy.com