Local Dairy Queens host decorating event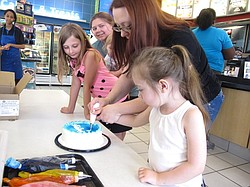 Photo
Neighbors | Zack Shively.Dairy Queen provided families with blank cake to decorate for their Father's Day event. The families could choose three different sized cakes. The families used airbrushes, sprinkles, gels and ribbons to decorate the treats. Pictured, the Bushling family decorated the cake using an icing pen.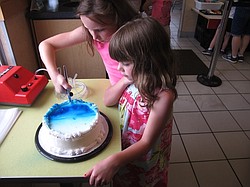 Photo
Neighbors | Zack Shively.The Austintown, Canfield and Cornersburg Dairy Queen locations celebrated Father's Day with a decorate your own cake event on June 16. Owner Chrissy Mallory has had the event for many years at her Dairy Queen locations. Pictured, Isabella and Madison Hylton airprushed a cake for their dad.
By ZACK SHIVELY
Local Dairy Queen stores had their annual Father's Day cake decorating event on June 16.
The stores allowed families to purchase and decorate cakes for a personalized treat for Father's Day. The event occurred at three locations: the Canfield store from 10 a.m. until 1 p.m., the Austintown location from 1-4 p.m. and the Cornersburg DQ from 4-7 p.m.
"It's a way to draw a card on an edible cake," said Chrissy Smith, owner of the stores. She began the program in the 90s when she thought it would be an interesting idea. They have done the event annually each year since then.
The store provided three different sized cakes, an eight inch round cake, a 10 inch round cake and a 10 by 24 inch cake. Each of the treats were plain white cakes with borders.
The families began at one station where they airbrushed on the cake using any of the six colors available at the event. The att endees used ribbons, gels and sprinkles to add more to their decorations. They could also choose different images to place on the cake and start from there.
More like this from vindy.com