Boardman suffers first state loss
---
Boardman vs. New Albany 12u Little League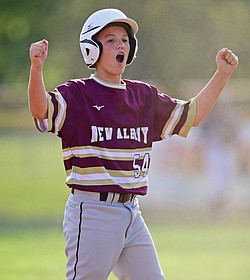 Gallery
By TOM WILLIAMS
williams@vindy.com
NORTH CANTON
New Albany ace Ben Liebel impressed Boardman baseball players Gavin Hyde and Dylan Barrett.
"He was throwing hard," said Hyde on Thursday after Boardman lost 3-1 to New Albany in the Little League 11-12 state baseball tournament at the Hoover Community Recreation Complex. "We haven't seen a pitcher that's thrown that hard in a while.
"And then he mixed it up with two strikes, with either a curveball which was very good, or an outside fastball, which we couldn't make adjustments at the plate."
Barrett, who drove in Boardman's run in the first inning with a two-out base-hit to left field, described Liebel as "a hard pitcher."
"We hadn't seen that yet in the tournament," Barrett said after the winners bracket finale.
The good news for Boardman is that Liebel won't be eligible to pitch Saturday when the state champion is crowned.
The not-so-good news is that Boardman must defeat Hamilton today at 6 p.m. in the losers bracket finale to get another shot (or two) at New Albany.
Hamilton lost its opening game on Saturday, 10-3, to Galion, but has won five straight games to remain alive. On an adjacent field Thursday, Hamilton ousted Galion, 15-1.
"We have a lot of confidence," Hyde said. "We're a team that can lose a game and fight back and win a tournament."
In the district tournament, Howland defeated Boardman in an early game. Boardman rebounded to earn the state trip with a pair of wins over Poland.
No one watching was surprised at how well-played this game was. In the past three state tournaments (9-10 in 2016 and 10-11 in 2017), Boardman and New Albany have played six times. Each won three, but Boardman won both state crowns.
After Caleb Satterfield opened the game with a walk, Cal Huston laid down a sacrifice bunt and reached base when first baseman Matt Purper's throw was wild. Two strikeouts later, Barrett connected on Liebel's 0-1 pitch to drive in Satterfield for a 1-0 lead.
Hyde dominated New Albany, retiring the first 10 batters he faced (five on strikeouts).
But with one out in the fourth inning, Liebel smacked Hyde's next pitch over the left-field fence to tie the game.
With two outs, New Albany scored twice. Zack Barienbrock singled and took second base on a wild pitch. Pinch-runner Josh Richardson took third when Zach Casey singled. Both scored on Aiden Booth's double to right-center field.
Boardman made things interesting in the sixth inning. Liebel needed nine pitches to strike out Jack Ericson, the final batter he could face after topping 85 pitches.
Booth finished the game in roller-coaster fashion. Hyde reached on a bloop single and Barrett walked. With two outs, Ryan Conti singled to load the bases. Another strikeout ended the game.
Boardman manager Rob Hyde says New Albany, without question, is the best team Boardman has faced in three state tournaments.
"Clearly, [Liebel] beat us," Hyde said. "We had two hits off of him. He pitched a very good game."
Hyde says the season isn't over.
"You never like to lose, but we've been here before, we know how to deal with it," Hyde said. "We have the pitching, we just have to get the bats going."
More like this from vindy.com