Unconventional swing works for Scrappers' Nelson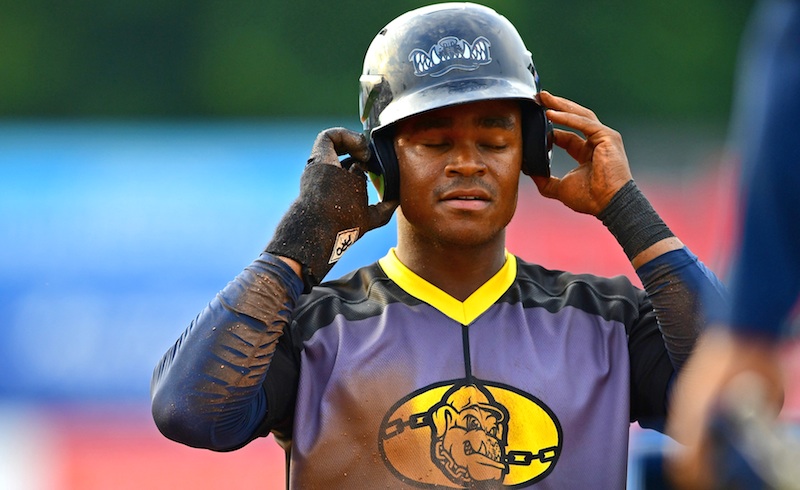 ---
By Dan Hiner
dhiner@vindy.com
niles
When hitters struggle, they go to the film. Struggling baseball players break down their swing step by step, hoping to find the problem and work themselves out of slumps.
Mahoning Valley Scrappers left fielder Hosea Nelson has more or less given up on that approach.
Nelson was named the New York-Penn League Hitter of the Week for his performance from July 16-22.
The Detroit native hit above .400 with two home runs and nine RBIs during the Scrappers' six-game road trip against the Batavia Muckdogs and Auburn Doubledays.
"I'm just trying my best to take it one day at a time — not trying to be too fine with my swing or my approach at the plate," Nelson said. "I'm trying to be the best version of myself that I can be."
Over the years, coaches have tried to reshape Nelson's swing, but he's done trying to fix something that isn't broken. The 2016 ninth round pick out of Clarendon Junior College is just trying to hit the ball hard somewhere.
His new mind-set is paying off. Nelson has improved in every major offensive category in his second year at Eastwood Field.
Last season, Nelson, 22, hit .240 with one home run, seven RBIs and eight doubles in 42 games with the Scrappers.
Through 28 games this year, Nelson is hitting .312 with four homers, 21 RBIs and seven doubles.
"In years past, I would get real self-conscious about my swing because I don't have a conventual swing," Nelson said. "Everything I do is what hitting coaches [usually] teach against.
"Even though I'd hit a ball good, [they would say] 'Well, you didn't do it this way.'"
Nelson said the best hitting coaches don't focus strictly on fundamentals. He said the best coaches teach important steps for hitters to implement into their swing without completely changing the hitters' habits.
Nelson said he believes he's found the right hitting coach in Jason Esposito. The Scrappers first-year assistant worked with Nelson while the two were in the Arizona League last fall. He was added to the Scrappers coaching staff in January.
Esposito said Nelson fell into the "baseball trap" and lost some of his confidence in the past. He said Nelson needed to ignore the flaws in his swing if he wanted to continue to develop offensively.
"I don't believe there's any perfect way to swing the bat," Esposito said. "If you watch big league games, our big league team [Cleveland Indians], everybody's different.
"Whatever movements you make — whatever mechanics you may have — training them and being confident in them is probably most important over any specific mechanic."
Esposito stresses making solid contact because it's the only thing a hitter can control. He said the rest "comes down to luck."
For Nelson, it doesn't matter how pretty a swing looks. In the end, it's all about results.
"I don't hit anything like [Scrappers first baseman Mitch Reeves] and Mitch doesn't hit anything like me, but we both hit the crap out of the ball," Nelson said. "That's all that matters."
More like this from vindy.com