Summary of recent criminal activity in Poland and Boardman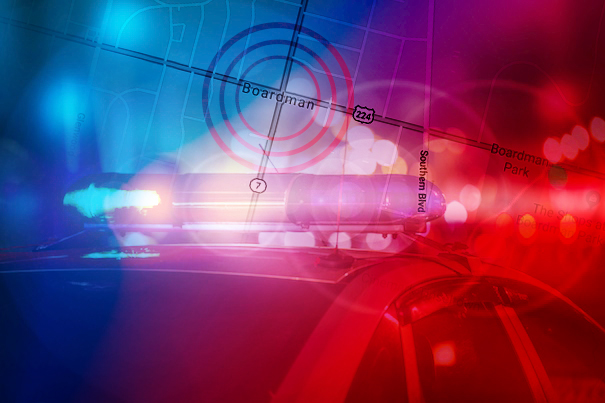 ---
POLAND
July 20
Identity fraud: A South Hubbard Road woman learned that her personal information had been compromised.
July 22
Identity fraud: A Blueridge Drive man found out his identity had been stolen.
Criminal damaging: A 15-square-inch window screen was damaged at a residence in the 3400 block of Dobbins Road.
Drugs: A traffic stop in the 5700 block of Sheridan Road resulted in the seizure of two bags of suspected marijuana and suspected drug paraphernalia.
BOARDMAN
July 18
Assault: A counselor with a South Avenue group home alleged a client punched him several times in the head, then tackled the victim as he tried to get away, injuring his right shoulder and lower back.
Harassment: A Southwoods Avenue man said he received unwanted Facebook messages, including obscenities and four inappropriate photographs.
Burglary: To a residence in the 3900 block of South Schenley Avenue, from which a Nintendo hand-held game and other items were missing.
Criminal damaging: Nickole M. Snyder, 34, of Willow Drive, Boardman, surrendered on a criminal-damaging charge, related to an incident June 29 in which a Youngstown woman reported someone had intentionally struck her vehicle in a parking lot in the 1300 block of Doral Drive.
Theft: A man reportedly stole a $6 clothing package from Family Dollar, 4030 Market St.
Theft: Sandra D. Berry of Brookdale Avenue, East Palestine, was charged after police alleged Berry, 49, had stolen $110 worth of women's clothing from Burlington Coats, 529 Boardman-Canfield Road.
July 19
Drugs: A traffic stop on Market Street led to Elizabeth A. Soich's arrest on a charge of possessing a controlled substance, a fifth-degree felony. Soich, 37, of Glendale Avenue, Boardman, had wrapped in her wallet a peach-colored pill that appeared to be a Suboxone variant, a report showed.
Theft: Two Birmingham, Ala., boys, 11 and 15, were accused of stealing $59 worth of clothing from Walmart, 1300 Doral Drive.
Identity theft: A Boardman woman discovered someone without her knowledge or consent had opened a phone account and left a $4,609 balance.
Drugs: After pulling her over near Market Street and Charles Avenue, authorities charged Heather M. Bays, 41, of Maywood Drive, Youngstown, with one felony count each of drug abuse and trafficking in drugs after alleging Bays had in her purse five small bags containing what appeared to be methamphetamine, and that a sixth such bag was found as she was being processed. Bays also was cited on charges of marijuana possession and having an open container of alcohol in a motor vehicle.
Theft: A Canfield woman noticed money missing from her wallet she had left in an unsecured locker at a McClurg Road business.
Theft: A Youngstown woman discovered a debit card missing from a self-checkout register at a Doral Drive big-box store.
July 20
Arrest: Bernard F. Davis, 26, of Raccoon Road, Austintown, was taken into custody during a traffic stop on Glenwood Avenue. He was wanted on a Campbell warrant.
Harassment: A township man said he's receiving threatening calls and text messages.
Identity fraud: An Oakridge Drive man discovered $680 worth of fraudulent activity on his debit-card statement.
Theft: A Locust Avenue man told police a Boardman company has refused to refund him $55 that he says is the result of two unauthorized transactions.
July 21
Arrest: While dealing with a disturbance at Southern Park Mall, authorities charged two Youngstown boys, 13 and 16, with resisting arrest and obstructing official business after alleging they led police on a foot chase. One of the teens rode a bicycle through the mall concourse before officers confronted him, after which he refused to get off the bicycle, a report showed.
Criminal damaging: A newly-bought home in the 8400 block of Crystal Drive was found with damage to a door frame, a window's trim, a washing machine and dryer and several walls throughout.
Drugs: After stopping his vehicle near Market Street, officers charged Willie L. Oliver, 32, who listed Youngstown addresses on Vermont and North avenues. Oliver faced two drug-abuse counts and one of carrying a concealed weapon, when, police alleged, a loaded firearm, two bags of suspected heroin and a single white pill determined to be Oxycodone were found.
Theft: A man reportedly stole 18 six-packs of socks, seven pairs of undergarments and five packages of women's socks from Ollie's Bargain Outlet, 385 Boardman-Canfield Road.
Arrest: Officers responded to a report of a man at a Market Street gas station who was possibly under the influence of narcotics before arresting Eric A. Gibbs, 38, who listed Youngstown addresses on Lee Avenue and Southern Boulevard, and who was wanted on a felony warrant charging receiving stolen property.
Possible theft: The front license plate was lost or stolen off a vehicle in the 1300 block of Doral Drive.
Theft: Rakeya L. Crafter, 26, of DuPont Street, Youngstown, and Dequan I. Cole, 32, of East Florida Avenue, Youngstown, were charged with taking about $8 worth of items that included a sippy cup from Walmart.
July 22
Citation: Officers handed a minor-misdemeanor citation to Kami J. Rotellini, 42, charging her with public intoxication. Rotellini, of Southern Boulevard, Boardman, was found in such a state behind a building that belongs to an Indianola Road auto-care business, a report said.
Theft by deception: An Old Oxford Lane woman told police that after having met a man via an online dating service, he tricked her into placing a $617 order on her credit card, with the promise he would go to a nearby bank to obtain money to pay her back. Instead, the man fled in a vehicle and never returned, she also reported.
Theft: A Beechwood Drive man who had ordered a pair of shock absorbers for his truck reported never having received the FedEx package containing the merchandise.
Menacing: A Canfield woman alleged a friend's former girlfriend approached then threatened to harm her after the victim had pulled over in the 800 block of Indianola Road to make a phone call.
Theft: A man reportedly stole six household items and an electronic dead-bolt lock from Home Depot, 7001 Southern Blvd.
Theft: A housekeeper with a South Avenue motel discovered her $150 cellphone missing from her cart while cleaning rooms.
Criminal damaging: An Argyle Avenue man alleged his former girlfriend did $200 in damage to his car's rear bumper.
Theft: A resident at a South Avenue long-term care facility reported $20 missing from his wallet.
July 23
Arrest: Officers responded to suspicious activity in the 1100 block of Doral Drive, where they took into custody Robin J. Moore, 57, of Market Street, Boardman, who was wanted on a Liberty Township warrant accusing her of failing to appear in court on a criminal-trespassing charge.
Fraud: A Hitchcock Road woman reported paying $399, supposedly to repair a virus, after having received two pop-up messages on her computer, one of which contained a toll-free number to call, but before realizing it was a scam.
Theft: Matthew R. Hipple, 21, of Glenwood Avenue Youngstown, along with a 15-year-old Youngstown boy, was charged in the theft of four boxes of merchandise valued at $52 from Spencer Gifts in Southern Park Mall. Hipple also was charged with contributing to the delinquency of a minor.
Theft by deception: A Salinas Trail man told police a caller claiming to be a sales representative for DirecTV duped him into paying $360 up front, with the promise he would receive a significantly lower subscription rate before he learned from the company that no such promotion was underway.
Drugs: Officers were sent to Vibra Hospital, 8049 South Ave., where they reportedly talked to a female patient and seized two syringes, a bag with suspected drug residue and other contraband. No charges were filed at the time of the report, however, pending the outcome of the investigation.
Theft: Miranda L. Houk, 36, faced a theft charge. Houk, of Cooper Street, Lowellville, was accused of taking two pairs of shoes from Kohl's, 383 Boardman-Poland Road.
Theft: A man reportedly stole a $229 drill and hammer kit from Home Depot, then fled in a Ford Ranger.
July 24
Arrest: Police on South Avenue picked up Sequioua L. King of Ivanhoe Avenue, Youngstown, on a probation-violation warrant, as well as on charges of possessing drug paraphernalia and obstructing official business. King, 30, had two suspected crack-cocaine pipes, then, after her arrest, became uncooperative and refused to allow herself to be photographed and fingerprinted, authorities alleged.
More like this from vindy.com