Get your seat at the Robins Theatre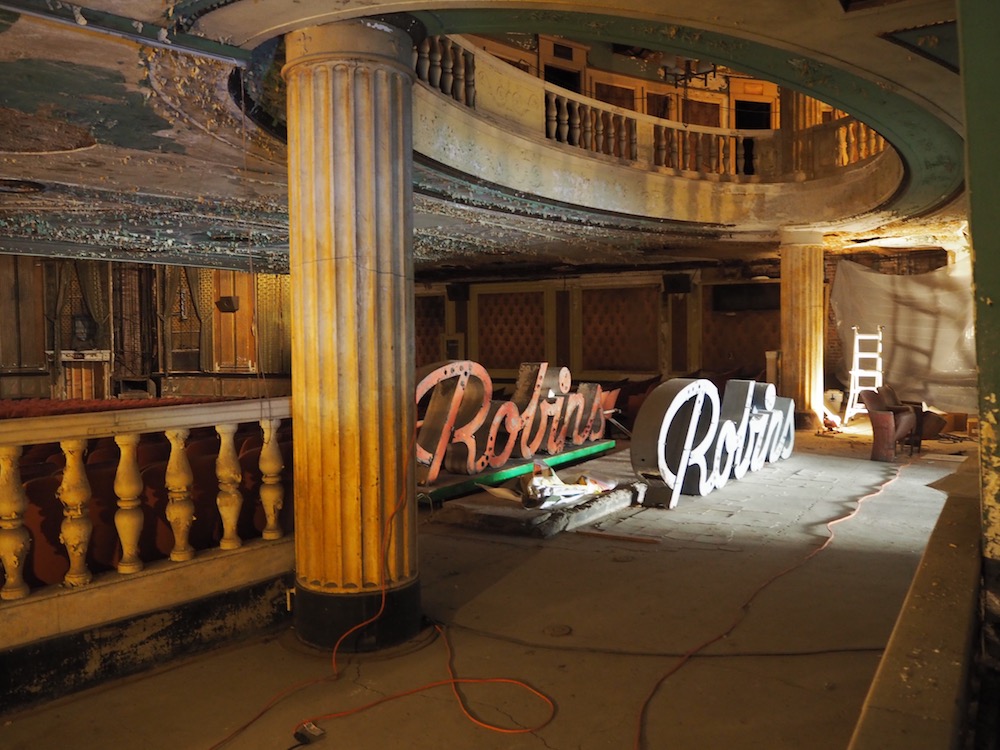 ---
The long-closed Robins Theatre in downtown Warren doesn't look like much from the outside.
As you drive by, or walk by, you wouldn't even know a theater once was located behind those walls. It's drab and vacant, and there is no sign or marquee.
But if you step inside you will be stunned.
The Robins, at 510 E. Market St., just east of Courthouse Square, has been closed since 1974 and has been deteriorating ever since. A large hole formed in the roof directly over the stage that lets in light – and also rain and birds.
There is no electricity or plumbing. The plaster has fallen away in many places, and the dressing rooms and bathrooms below the stage are dank concrete shells, abandoned and foreboding.
Nevertheless, it takes just the slightest bit of imagination to envision it in its heyday.
The 1923 theater was an ornate palace of live entertainment, built in the opulent style of the gilded age. It's like a half-sized Powers Auditorium that is just waiting to be restored to its original grandeur.
The Friends of the Robins Theatre Foundation began raising money to do just that earlier this year. It is trying to raise the $5 million to $7 million the renovation will require, and aims to reopen the theater as a performing arts center in 2020.
The Robins had a capacity of 1,500, with seating on the main level, mezzanine and balcony.
But right now, there are no seats because they have been removed – and Friends of the Robins are asking for help in refurbishing them and putting them back.
To that end, it has been running its Sponsor a Seat campaign, in which members of the public can fund the complete refurbishment of one seat – frame, paint, wood, upholstery – for $289.
Seat sponsors can commemorate themselves, or a friend, family member, business or organization on their seat, serving as a reminder for future patrons. A three-line inscription will be permanently affixed to the seat.
Sponsoring a seat, of course, does not grant the sponsor the right to sit in that seat for any event. Tickets will still have to be purchased.
To sponsor a seat, go to robinstheatre.com.
To give sponsors a glimpse of the work in progress, the Friends foundation will be at the theater on Saturday from 10 a.m. to 1 p.m. to accept sponsorships (they will not be able to give full tours at this time).
Payment can be made by cash, check or credit card. The foundation is awaiting designation as a 501(c)(3) organization and once it receives it, all seat sponsorships will be tax deductible and a confirmation will be sent to all sponsors.
For information, email sponsoraseat@robinstheatre.com.
BUTLER ART MUSEUM IS MARKING A MILESTONE
The Butler Institute of American Art, Youngstown's greatest cultural treasure, will mark its 100th anniversary in 2019, with a series of events that will culminate in a gala celebration in October of that year.
But the anniversary year will get an early start in September when rocker John Mellencamp will open an exhibition at the museum.
Mellencamp, as many know, is a skilled painter. He had an exhibition at the Butler's Trumbull branch in 2013. It was the Indiana native's first museum exhibition.
Mellencamp wanted to be part of the Butler's 2019 anniversary year, but his schedule wouldn't permit it. Hence, the September exhibition, at which he will make an appearance.
THIS AND THAT
The Whistle's wall: Any bar or restaurant in downtown Youngstown with a patio, or that is planning to add one, should look to the Whistle and Keg as an example.
I'm talking about the sturdy and decorative wall that encloses it. The norm has been flimsy residential-grade aluminum fencing that cannot withstand the crush of a crowd and quickly becomes an eyesore.
The Whistle's patio has a finished wooden wall that looks great and is built to last. The pour-your-own bar also plans to install taps on its patio, which would also be a first for downtown.
Alteras album: Youngstown-based post-hardcore band Alteras will unveil its blazing-hot second album, "Myself on Fire," with a record-release show Aug. 3 at Suzie's Dogs and Drafts in downtown Youngstown. The band – Jacob Clasen, Michael Dulay, Zack Orr and Tony Costarella – played at the Vans Warped Tour at Blossom last week.
Guy D'Astolfo covers entertainment for The Vindicator. Follow him on Twitter at @VindyVibe.
More like this from vindy.com