Sharon bridal store silent on missing dresses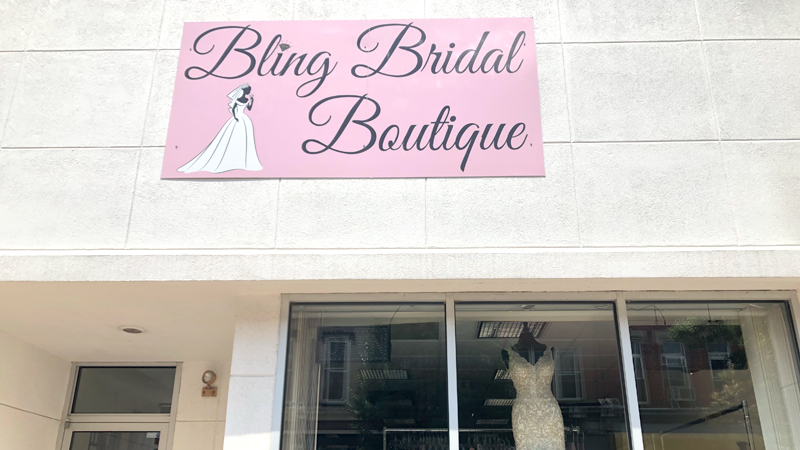 ---
SHARON
With her wedding in just 10 days, Danielle Ransom opted to order new bridesmaids' dresses from Amazon.
Jen Munholand has resigned herself to the fact she and her bridesmaids might have to shell out significantly more than what they already spent to have the dresses reordered in time for her Aug. 11 nuptials.
Shelby Waltman isn't sure what she'll do if her bridesmaids' dresses don't arrive in time for her October wedding.
The three women are among customers of Bling Bridal Boutique on East State Street who say they haven't received orders paid for long ago. They want answers and refunds – and if they don't get them, they said they will consider taking legal action against the shop.
A sign posted on the store's door and a message on its website states that dresses are shipping late, and asks customers to provide an address so dresses can be shipped directly to them. The sign on the door states the store will be closed July 21-28.
A call to the store Wednesday was not answered. The store did not respond to a Facebook message from a Vindicator reporter.
Ransom, of Clarion, Pa., visited Bling Bridal with her bridesmaids at the end of February, she said. The entire party ordered dresses at that time, and were told they would ship in 12-15 weeks. Ransom received her wedding dress and one bridesmaid's dress in the wrong size, but she is unsure whereabouts of the other dresses.
Ransom said she was in touch with store associates about the order when she picked up her dress in late June, then continued to check in this month as her Aug. 4 wedding approached.
"A lot of what they do is through text and through Facebook Messenger, which is really unprofessional," she said.
She shared with The Vindicator a series of messages between her and a store associate sent between July 18 and Wednesday.
At the start of the exchange July 18, the store responded to a Facebook message and asked Ransom to have her bridesmaids message the store with their address so the dresses could ship directly to them, saying "they should be shipping in the next one to two weeks." A similar message was sent via text to all three women this week, they said.
When Ransom responded by asking when the dresses would arrive, she received a response saying it would be "hard to tell because they are all coming from different company's [sic]." Another message cited "an issue with the business credit card," but follow-up messages from Ransom over the next few days did not receives responses, according to the messages she shared.
With her wedding less than two weeks away, Ransom and her bridesmaids opted to purchase new dresses. What she's hoping for now is a refund – she says her bridesmaids spent a total of $700 – and for other bridal parties to receive their orders.
"It's not exactly what we wanted to do, but I'm sure the girls will look gorgeous in whatever they wear. I just don't want to see this happen to anyone else," she said.
Munholand's wedding is right around the corner, too. She said her bridesmaids purchased their dresses at Bling Bridal in March and were told they'd arrive in June.
Munholand, of Poland, said she checked on the status of the order throughout June and July. She, too, said the store has communicated only via text and Facebook.
"Every time I've tried to call them, they haven't answered their phone," she said.
She said after commenting on Bling Bridal's Facebook page, she was blocked from commenting. The women said the shop's Facebook page previously had reviews and comments, which they said appeared to have been removed when they visited the page recently.
"All I want to know is, did my dresses ship?" Munholand said. "My wedding is in 16 days. We have to re-buy the dresses if we want them, because we don't have a choice. ... We're going to have to re-buy and pay to rush ship them and rush the alternations, which is going to cost twice as much money."
Waltman, of New Castle, Pa., said her six bridesmaids ordered their dresses and paid at the beginning of April and were told it would take about 12 weeks to receive their dresses.
She, too, reported receiving a text from the store Monday telling her to have her bridesmaids provide their address. She said her reply went unanswered.
Waltman said she knows there are other customers experiencing the same issue, based on comments she got on her post in a Facebook group for a wedding flea market.
She said her bridal party spent a total of about $1,200 at the store, and she'll do everything in her power to make sure her bridesmaids get their money back if they don't get their dresses in time.
"Something needs to happen," she said. "If there was a problem, just tell me so I can get another dress. Don't just take my money and run off with it."
All three women said they are considering legal action.
"We need a refund or we need answers," Munholand said. "Either refund us we're going to have to take you to court."
More like this from vindy.com