Prosecutors site Marsy's Law in asking judge to keep Hoerig trial date intact
By Ed Runyan
WARREN
Hoerig trial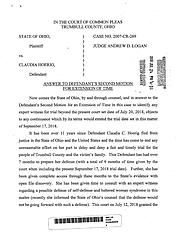 Document
Prosecutors in the Claudia Hoerig aggravated murder trial have filed a motion asking Judge Andrew Logan to refuse to allow defense attorneys to delay the trial¹s start.
Prosecutors in the Claudia Hoerig aggravated-murder trial have asked Judge Andrew Logan to refuse to allow defense attorneys to delay the trial's start for a "fishing expedition" to find evidence of her innocence in computer hard drives recently turned over by prosecutors.
A Tuesday filing in Trumbull County Common Pleas Court also says the family of Karl Hoerig, who Claudia Hoerig is accused of killing in 2007, will avail itself of the new statewide Marsy's Law in asking for the case to stay on track for a Sept. 17 trial date.
The filing also reveals that her lawyers have abandoned hopes of using battered-woman syndrome as a defense for Hoerig's alleged killing of her husband in their Newton Falls home.
Hoerig, 53, told investigators in January – the night she returned to the United States after fleeing to her native Brazil and living there 11 years – that she shot her husband because of remarks he made that angered her.
But she also said Karl Hoerig mentally and physically abused her. Her lawyers tried to find an expert on battered-woman syndrome to work on her case and potentially testify at trial.
But prosecutors said in Tuesday's filing that defense counsel informed them they "would not be going forward with such a defense."
The new filing is a rebuttal of a Friday request by Hoerig's attorneys, Matt Pentz and David Rouzzo of the Ohio Public Defender's Office, to have more time to identify an expert witness to examine hard-drive images from two computers seized by police from the Hoerig residence in 2007.
Additional time until Aug. 3 is needed to review the files and determine whether they "will be of any value to defense expert witnesses," the public defenders said.
The judge earlier gave defense counsel additional time from July 12 to July 20 to identify an expert witness.
County Prosecutor Dennis Watkins and Chris Becker, first assistant prosecutor, said in their filing the problem is that "cyber space exploration into possibilities could be endless," so prosecutors "object to any continuance to engage in any fishing expedition."
"It has been over 11 years since defendant Claudia C. Hoerig fled from justice in the State of Ohio and the United States and the time has come to end any unreasonable effort on her part to delay and deny a fair and timely trial for the people of Trumbull County and the victim's family," prosecutors said.
Prosecutors turned over hard drives related to the computers last Thursday, according to a filing in the case, but she has "had over seven months to prepare her defense," prosecutors said in the filing.
Prosecutors cited Ohio's new Marsy's Law as a reason to keep the trial date intact, citing provisions that give crime victims and family members of victims the right "to be heard in any public proceeding involving release, plea, sentencing, disposition, or parole, or in any public proceedings in which a right of the victim is implicated ..."
Among those rights is "to proceedings free from unreasonable delay and a prompt conclusion of the case," the filing says.
The filing asks Judge Logan to schedule a hearing where the Hoerig family can be heard before the judge decides to continue the case beyond Sept. 17.
Marsy's Law was added to the Ohio Constitution and became effective in February after being approved on the statewide ballot last year.
Judge Logan has not ruled on the defense request for more time or on a defense motion to suppress statements Hoerig made in January and other evidence.
More like this from vindy.com