Trumbull family court offering furry distraction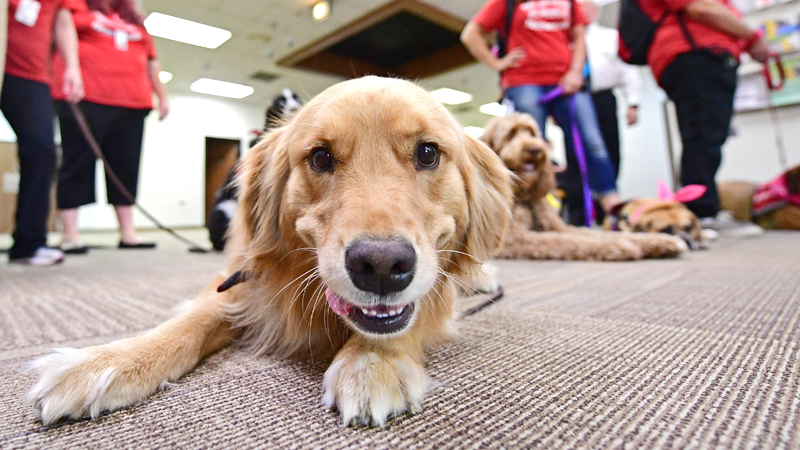 ---
By ED RUNYAN
runyan@vindy.com
WARREN
Judge Pam Rintala says the public usually finds a trip to Trumbull County Family Court stressful, and it frequently puts them in a bad mood.
The court not only resolves juvenile criminal matters, it also handles divorces and child-custody and support issues – matters fraught with emotion and heartbreak.
"Nothing too happy happens here," the judge said.
So when the Go Team Therapy, Airport and Crisis Dogs and the company Sit Means Sit contacted the Family Court offering to bring therapy dogs to the court to improve moods, court officials said yes.
For several months, the non-profit team has brought a handful of dogs to the Main Avenue Southwest facility every week so the dogs can interact with the juveniles in detention and also cozy up to the people in the second-floor court area.
Judges Rintala and Sandra Stabile Harwood have been pleased with the results.
"The happier we can make the environment here, the more likely people are likely to be thinking good thoughts," Judge Rintala said.
Judge Stabile Harwood said she thinks the presence of well trained dogs can even improve the outcome of the case.
"I feel if people are not as stressed out, they can come together to make a resolution that maybe both can agree to," she said.
Chelsea Hafer of Girard explained that each of the handlers is owner of the dog they bring, and each dog has been through training from Sit Means Sit.
For example, the animals have been trained how to remain pleasant even when a child pulls too hard on the dog's coat. They are trained to pay little attention to sirens, fire trucks, or the commotion.
"We need our dogs to be cool, calm and collected," Hafer said.
On Tuesday, the judges invited reporters to see the dogs in action, including a visit to the gymnasium in the detention facility, where the 15 or so juveniles sat on benches and played with a handful of dogs for about an hour.
"I think the kids really look forward to it," said John Spain, juvenile detention assistant director.
Mario Baugh, dayturn supervisor, said he thinks it makes the youths feel like they're at home or at their grandma's house, "and it may release some of the stress they have."
While Rita McIntosh's Goldendoodle LucyLu enjoyed some quality time with four detained females, McIntosh said the girls seem to warm up to the dogs very quickly.
In a more comfortable room than the one used Tuesday, the girls "will get down on the floor and hug her," McIntosh said.
The same dogs also deployed to Mineral Ridge High School in April for the calling hours and funeral for former Weathersfield Township Fire Chief Randall Pugh, who was known to most Mineral Ridge residents.
The dogs lined the school's hallways where guests were waiting in line. Guests were encouraged to interact with the dogs as a "distraction" from the grief they felt, Hafer said.
More like this from vindy.com