Georgia to honor Poschner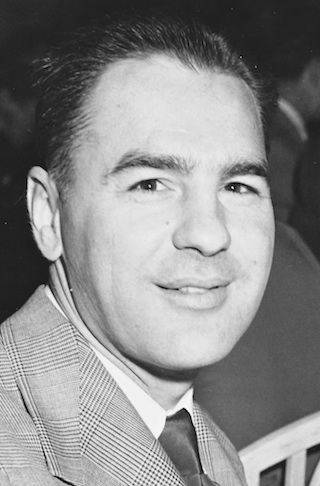 Photo
By TOM WILLIAMS
williams@vindy.com
Youngstown native George Poschner, a University of Georgia teammate of 1942 Heisman Trophy winner Frank Sinkwich, will become a member of Georgia's Circle of Fame in February.
A member of the Georgia Sports (1982) and Orange Bowl (1985) Halls of Fame, Poschner died in 2004 at the age of 85.
Loran Smith, administrative specialist with Georgia, is looking for Poschner's next of kin who might be interested in attending the ceremony on Feb. 8 at Samford Stadium in Athens, Ga.
Also joining Georgia's Circle of Honor will be: former Pittsburgh Steelers wide receiver Hines Ward; 14-time NCAA champion swimmer Mary DeScenza; track standout Hyleas Fountain, who won four NCAA individual titles; and national championship-winning baseball coach Steve Webber.

The class will be introduced on the field at Georgia's football game against Vanderbilt on Oct. 6 in Sanford Stadium.
Anyone with information about Poschner's relatives may reach Smith by calling 706-207-7981 or emailing him at loransmith@sports.uga.edu.
According to Smith, Sinkwich told Georgia recruiters that Poschner — his best friend — also needed to be offered a scholarship. Smith says that during his Chaney High School days, Poschner was such a skinny, lightweight kid that he was not allowed to play football. He became a cheerleader.
"At Georgia, he became the beneficiary of three ample meals a day — as a kid, the best his widowed mother could do was two daily meals," Smith said. "He began to put on weight until he soon weighed in at 175 — certainly not imposing, even for that era, but with other assets became an exceptional player."
In the 1940, 1941 and 1942 seasons, Poschner earned letters as an end for Georgia.
Poschner earned first-team All-America honors and was named to the All-Southeastern Conference first team after the 1942 national championship season.
Poschner's legend with Georgia was cemented during the Bulldogs' 21-10 come-from-behind victory over Alabama in 1942 at Atlanta's Grant Field. Smith says the game was played there because of gas rationing during World War II.
Against the Crimson Tide, Poschner caught two fourth-quarter touchdown passes from Sinkwich. Smith said one was "a sensational finger-tip catch."
Smith cited Bulldog historian John Stegeman for a description of the other: "From the Alabama 14, Sinkwich fired toward his roommate, Poschner, at the goal line, but two Alabama defenders got to him at the same time as the ball, one hitting him high and the other low, causing him to turn a flip and land on his head.

"A moan went up from the stadium, but suddenly the officials' arms were in the air. Poschner had somehow held on to the football and incredibly Georgia was ahead."

Another big play by Poschner came in the 1943 Rose Bowl. The game was scoreless going into the fourth quarter when Poschner broke through the UCLA line to block a punt for a safety. Georgia scored a touchdown late for a 9-0 victory to seal the national championship.
The Detroit Lions drafted Poschner with an eight-round pick in the 1943 NFL Draft, but he never had the opportunity to turn professional. After graduating from Georgia in 1943, Poschner enlisted in the U.S. Army to fight in Europe.
A second generation Hungarian, Smith said Poschner's family had received a letter from an old country official, exhorting him to return home and fight for the fatherland.
"Even though Poschner experienced a hard life, he would have never consider taking up arms for anybody except America," Smith said.
Poschner earned a Purple Heart, Bronze Star and the Distinguished Service Cross after the Battle of the Bulge in January 1945.
Poschner was injured charging a German machine-gun nest and laid in a snowdrift for three days before being found. Because of frostbite, both of his legs were amputated below the knees as were the fingers on his right hand.
Smith said that when Poschner was inducted into the Georgia Sports Hall of Fame, "he refused assistance and somehow rose up from his seat and, wobbling on his crutches, made it to the podium where he expressed gratitude for being an American."
More like this from vindy.com